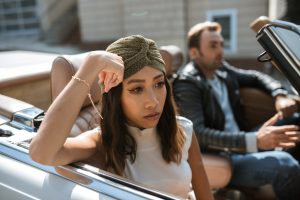 Most decisions in life have some sort of end result. Some are intended and desired while some are a bit unexpected or distressing. At the time we made the decision we might not have thought about possible repercussions. Perhaps recently one of these decisions has ended up in an unexpected pregnancy and you don't know what to do because your boyfriend wasn't involved. This circumstance may feel extremely nerve-racking, so where do you turn?
Finding yourself in a difficult and confusing situation can make it hard to think clearly about what steps to take next. If you find yourself unexpectedly pregnant and asking yourself where you can go for assistance, Avenue Women's Center is here for you. As a first-step pregnancy center, we are equipped to be here for you in your time of greatest need.
Call, chat, email, or text us to schedule an appointment with us today!
Processing Your Pregnancy
While the situation you're in may lead you to take quick action, it is crucial to take time to process your pregnancy after a positive test. Perhaps you feel this news of yours is a bit sensitive and something to keep under wraps to not hurt those close to you. Feeling like you have to process this and go forward in secret can be isolating. Consider finding a trusted close friend or family member who you can confide in. Ideally, this is somebody you know can encourage, support, and help you…but also not share your news without asking, or pressure you into a decision you aren't comfortable with. If you don't think you have somebody in your life who can meet this need, there are other avenues for you to receive help, such as talking with a therapist, faith leader, or somebody like a pregnancy consultant.
Making Some Difficult Decisions
As you think through what this pregnancy means, you will have to make a decision about your pregnancy. This is not always the most straightforward or easy choice to make. And you will have to decide whether you will tell the others involved in this situation. Usually, keeping secrets from loved ones does not go well in the long run. For healthier, better relationships it is often best to be honest. You never know when somebody you love will be unexpectedly understanding and supportive. But, if telling those involved sounds daunting, consider having a mediator at your discussion to ensure a calm atmosphere and fair conversation takes place.
Gathering Information and Resources
Regardless of what you decide, you will need to make sure the information you have about your pregnancy and options are factual and up-to-date. Scheduling an ultrasound exam to determine the age and health of your pregnancy will help you as you decide. And if you decide on parenting or adoption, there are so many community and government resources and organizations to make your path smoother.
You are never alone. Even if the future looks uncertain right now, there are people who want to support and walk with you. At Avenue, we can offer a listening ear, helping hand, and connect you with others who will do the same. We offer free, limited ultrasound exams to give you the latest information about your pregnancy to help you as you decide.
Schedule your consultation and ultrasound with us at a location near you!
The information provided here is general in nature.  It is not a substitute for a consultation with a medical professional. Before any medical procedure, it is imperative that you discuss your personal medical history, risks, and concerns with your doctor. If you have questions during or after a procedure, your doctor should be immediately contacted. Avenue Women's Center is not an emergency center.  If you are experiencing severe symptoms, such as bleeding and/or pain, seek immediate medical attention.  Contact your physician, go to an emergency room, or call 911.