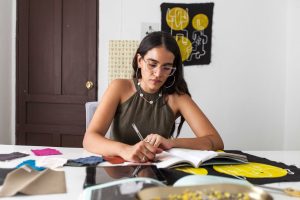 Imagine holding a baby in one arm, staring wide-eyed at a positive pregnancy test in your other hand.  You're completely stunned, unable to process what's in front of you, unable to still the pounding in your chest.  You're desperately wondering, "How could this have happened?" Does this hypothetical scenario remind you of a real one you're facing today?
The pregnancy journey that brought you a baby may have been planned.  But maybe it began unexpectedly, like this new pregnancy, and the difficulties you've faced leading up to this moment are fresh in your mind, the emotional pain still lingering in your gut.  Perhaps you're still trying to restore relationships and find your footing in the aftermath.  Regardless of the circumstances surrounding your previous pregnancy, chances are, you're presently overwhelmed and exhausted beyond words.  Know that there's help and hope available.  You're not alone.
Avenue Women's Center is here to help you navigate this new pregnancy.  We are dedicated to offering the information and support needed to pursue your most positive outcome.  Our free, confidential first-step pregnancy services include lab-quality pregnancy tests, options consultations, and more!
Reach out to ask us your questions and schedule an appointment!
A Lot to Process
You've got a lot on your plate right now.  If you've previously chosen to parent, you're already one-hundred percent aware of the fact that caring for a baby is hard work.  You probably can't imagine going through another pregnancy so soon, especially if your last pregnancy experience or current responsibilities have been difficult to manage.  And there are many other factors to consider.  You likely have loved ones who will be impacted by your pregnancy decision.  You have important obligations: work, school, education, family life… and the list goes on.  Maybe you feel like ending this pregnancy is your only option, or your path of least resistance.
Feelings of stress, anger, and exhaustion would be understandable for anyone in your shoes.  Your emotions are valid!  However, raw feelings may not be the best litmus test for figuring out your best pregnancy outcome.  It's important to take a deep breath and step back.  Make a well-balanced choice by processing and considering your emotions, but also by getting the information, resources, and care you need to feel empowered and confident in whichever path you choose.  Avenue Women's Center is here to support you throughout this entire process.
The Difference a First-Step Pregnancy Center Can Make
Our first-step pregnancy services at Avenue are streamlined and practical.  Learning about your pregnancy by getting a limited medical ultrasound can deliver valuable insight by clarifying the viability of your pregnancy and whether you're at risk for certain pregnancy complications.  Avenue offers these at no cost and can even book on short notice, schedule permitting.  We provide pregnancy consultations, which serve as opportunities to ask questions, process your feelings, discover resources, and learn the ins and outs of all your pregnancy options.  It's possible to manage your circumstances with confidence and autonomy.
Every pregnancy option, including abortion, comes with its own set of challenges that could impact your life and the lives of your loved ones.  But fear doesn't have to drive your pregnancy decision.  You can lean on our compassionate team at Avenue while you figure out your best way forward.  Our services are provided by knowledgeable, non-judgmental staff members who are passionate about meeting your needs with genuine care and professionalism.
Schedule an appointment today!  You've got this.  And we've got your back as you approach this unique new pregnancy experience one step at a time. 
The information provided here is general in nature.  It is not a substitute for a consultation with a medical professional. Before any medical procedure, it is imperative that you discuss your personal medical history, risks, and concerns with your doctor. If you have questions during or after a procedure, your doctor should be immediately contacted. Avenue Women's Center is not an emergency center.  If you are experiencing severe symptoms, such as bleeding and/or pain, seek immediate medical attention.  Contact your physician, go to an emergency room, or call 911.