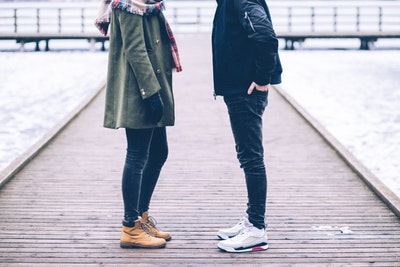 An unexpected pregnancy can be challenging to face. A woman might not be sure where or who to turn to initially, and possibly uncertain about sharing the potential news with her partner. It can be hard to reach out if you aren't sure how your partner is going to receive the news, or if you're uncertain about your pregnancy options. You might not even be sure if you really are pregnant. There are many reasons you might hesitate to tell your partner—especially if you were actively trying to prevent a pregnancy. But what if you're the partner in this situation? If you think your partner might be pregnant, how can you approach her? What are some things you can say or do to show your partner support?
If you or your partner thinks they might be pregnant, take the first steps of your pregnancy decision at Avenue Women's Center. Avenue has helped support women and their partners facing unexpected pregnancies for over 30 years with free and confidential pregnancy services. Avenue offers free medical-grade pregnancy tests with results you can trust, as well as a private pregnancy consultation to discuss your results and options in a private, supportive, and judgement-free environment. Contact us today to set up your free appointment at one of our five locations in DuPage County, Illinois!
Maybe you've noticed some early signs of pregnancy in your partner, such as frequent nausea, vomiting, mood swings, or fatigue. Symptoms like these are helpful in early detection of pregnancy, but could mean a number of other things as well. Even a missed period doesn't necessarily mean your partner is pregnant. Talking about an unexpected pregnancy might feel like an impossible conversation, but your concern and support might mean a world of difference as she begins to explore pregnancy options. So how can you approach your partner if you think they might be pregnant?
Educate yourself about pregnancy and pregnancy options.
You might have your own questions about pregnancy, such as what to expect and the types of pregnancy options that could be available to you and your partner. Each pregnancy situation is different, and the options available depend on many different factors such as the pregnancy's viability or how far along the pregnancy is. Learning more about pregnancy and pregnancy options can help you better prepare for an informed and open-minded conversation with your partner.
Offer nonjudgmental understanding.
Women experiencing an unexpected pregnancy can have conflicting emotions about their options. They might be feeling a lot all at once—overwhelmed, uncertain, fearful, nervous, excited, anxious … things you might also be feeling. Just being available to talk about options and future impacts of each option can be valuable in making the best pregnancy decision. You might not agree with the option your partner is considering most, and it's okay to have a different viewpoint. However, it's important to listen to her concerns to gain a full understanding of what's contributing to her decision. When you're ready to share your own thoughts, be sure to do so without judgment of hers, and without pressuring her into a choice she may not be comfortable making.
Be part of her support system.
"I support whatever you decide" is a frequent phrase men utter to their partners with an unexpected pregnancy. Although often said with well-meaning intentions, this could leave your partner feeling alone in her pregnancy decision. Yes, a pregnancy decision is ultimately a woman's to make, but knowing she's not alone in her choice can impact the options she considers. As each pregnancy option is examined, let your partner know specifically how you'll show your support. For example, being present for the pregnancy test results and any medical attention needed for each pregnancy option. Whether choosing to continue or abort the pregnancy, the choice can have lasting effects on both her and you in the future. Showing your support can be the encouragement your partner needs to make a pregnancy decision.
An unexpected pregnancy can be challenging to face with your partner. You might not be sure where to turn first for help and support. Avenue Women's Center understands that every pregnancy situation is different, and we provide understanding and nonjudgmental support as you navigate your pregnancy decision. Receive free pregnancy consulting services targeted at your unique concerns as you meet with our trained and knowledgeable staff in a confidential, private, and comfortable environment. We invite you to reach out to us today and learn more about the free pregnancy services we offer!
---
References:
American Pregnancy Association. (2018, November). Pregnancy Symptoms—Early Signs of Pregnancy. Retrieved from: http://americanpregnancy.org/getting-pregnant/early-pregnancy-symptoms/.
The American College of Obstetricians and Gynecologists (ACOG). (2016, May). FAQ032: A Partner's Guide to Pregnancy. Retrieved from: https://www.acog.org/Patients/FAQs/A-Partners-Guide-to-Pregnancy?IsMobileSet=false.
The information provided here is general in nature.  It is not a substitute for a consultation with a medical professional. Before any medical procedure, it is imperative that you discuss your personal medical history, risks, and concerns with your doctor. If you have questions during or after a procedure, your doctor should be immediately contacted. Avenue Women's Center is not an emergency center.  If you are experiencing severe symptoms, such as bleeding and/or pain, seek immediate medical attention.  Contact your physician, go to an emergency room, or call 911.