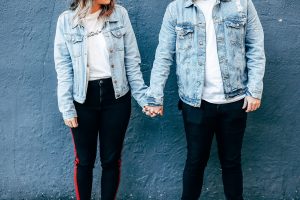 For some, having an intimate conversation about your needs can be hard. There may be shyness when it comes to being assertive. Or, when it comes to contraceptives, maybe you're embarrassed to talk about it. Couples who plan on engaging in sexual intercourse often need to lay out their expectations for one another. What kind of birth control are you both comfortable with? Are you both feeling confident in the decision to have sex? But maybe you and your partner never found the right time to talk about this. Perhaps you assumed he would handle everything because he already knew what you wanted. Except, now you think you might be pregnant. How can you and your partner work through this? Where can you go for help?
Do you suspect that you and your partner are facing an unexpected pregnancy? Avenue Women's Center provides a safe, nonjudgmental environment to discuss your options and process any concerns. Our staff will guide you through the steps of taking a free, medical-grade pregnancy test. Our tests are accurate just ten days after possible conception and you find out the results quickly. Address your questions about pregnancy options and contraceptive methods today. No matter what you decide, we're here for you.
Contact us today to book your free appointment at one of our six locations in the Chicagoland area!
Talking About Birth Control With a Partner
The level of comfort you feel during this conversation may depend on the length of your relationship. Have the two of you been together for a short time? Or has it been months or years? The nature of your relationship may be relevant as well. Are you and your partner just casually dating? Or is it something more serious?
Both of you may have a unique set of expectations when it comes to sex and birth control. It can be hard to determine what each person wants if you do not talk about it. After intercourse may not be the best time to have this conversation.
Going forward, try thinking about a comfortable location where you both can talk. Do you picture this environment to be a coffee shop or a favorite hangout? Would you prefer to meet where a professional resource can moderate the discussion? This may be a place like a doctor's office or a first-step options clinic.
Discussing Contraceptive Types
There may be certain contraceptive methods you're not comfortable using. The same goes for your partner. Talking can be important for another reason, though. What if you or your partner assume the other remembered to use protection? But it turns out, you both forgot it or thought the other person understood you don't like using a certain method.
Being open with your partner about what you want can be hard. But ensuring you both understand each other's expectations can be worthwhile. It can also be beneficial to talk about the potential drawbacks and advantages of each form of contraception.
Which contraceptives guard you against sexually transmitted diseases (STDs)? Would you prefer a more natural method instead of one that uses hormones? Do any methods cause you or your partner to experience discomfort? These questions might be worth exploring.
It should also be noted no form of contraception is 100% effective. Abstaining from sexual activity is the only guaranteed way to guard against STDs and an unexpected pregnancy. If this is a route you and your partner want to explore, then it's likely you'll need to have a talk about this as well.
What If I Learn I'm Pregnant?
If you determine you're pregnant, the discussion with your partner may be a little more challenging. You might be nervous about his reaction. You may even feel a little angry with him if you thought he had taken precautions to guard against pregnancy. Try giving yourself time to process any feelings of shock before you approach him.
If you tell him about the unexpected pregnancy, it's recommended you plan out what to say. This can help negate any feelings of nervousness by being prepared. Something like this can be a life-changing event for you and your partner. There may be fear and confusion about what to do. But the two of you do not have to handle this alone.
You may want to contact any mutual friends, close relatives, or a professional resource. By building a community of support around you, you can feel confident about making a decision. Similar to finding the right birth control method, some reflection may be needed before you're ready to commit to a choice.
There's no pressure. You're free to take all of the time you need. When you do feel ready, know support is available to you as you carry out a plan.
Do you and your partner have questions about birth control or a possible pregnancy? Avenue Women's Center works to ensure you receive the accurate information you need. We'll provide you with free limited medical services to take your next step. Within a nonjudgmental environment, we can also equip you with information about abortion, adoption, and parenting. We care deeply about helping you find the resources you may need.
Reach out to schedule a time to meet with us today at one of our six Chicagoland locations!
The information provided here is general in nature.  It is not a substitute for a consultation with a medical professional. Before any medical procedure, it is imperative that you discuss your personal medical history, risks, and concerns with your doctor. If you have questions during or after a procedure, your doctor should be immediately contacted. Avenue Women's Center is not an emergency center.  If you are experiencing severe symptoms, such as bleeding and/or pain, seek immediate medical attention.  Contact your physician, go to an emergency room, or call 911.