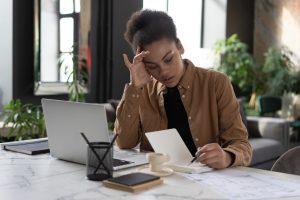 At different times in life, we all find ourselves in unexpected places. Sometimes the place we're at is a direct result of something we've chosen or decided. Other times our situation might be out of our control. Perhaps you find yourself facing an unexpected pregnancy—maybe even just the thought of what you're going through is too much to fathom. Sometimes when we're stuck with a difficult decision, ignoring it seems to work. And maybe you find yourself thinking now: "If I ignore this pregnancy, maybe it will just go away."
Wanting to move on and forget is often one of our first and natural responses to a stressful situation. But this approach is not always the most helpful. If you find yourself wanting to ignore your unexpected pregnancy, reaching out for assistance can be a great step forward. That's why Avenue Women's Center is here. As a first-step pregnancy center, we're equipped with the resources and services to help you make it through this time of your life and figure out what's next.
Call, chat, email, or text us to get started with an appointment today!
Finding Strength to Process When it's Too Much
If your first thought is to ignore this pregnancy, it's possible that even considering giving another thought to your situation brings about distress. You might not feel strong enough or equipped to process what this means or how to move forward right now. In this case, it can be beneficial to find someone you trust to listen without judgment as well as help you determine what next steps need to be taken. If it helps, sometimes taking time to slow down and practice mindfulness or relaxation can be a great way to find the strength to process.
Could Ignoring This Pregnancy Work Out?
Maybe you know somebody who was pregnant, ignored it, and everything seemed to turn out just fine. However, there are so many potential risks to this method of going forward! If you're hoping for a miscarriage (a potential early pregnancy risk), you'll still need to be aware of what's going on in your body. One in every 5 to 6 early pregnancies may end in miscarriage. However, the further along into the pregnancy you are, the less chance of miscarriage. It's important to find out where you stand with the risk of miscarriage through an ultrasound exam.
If Ignoring This Isn't an Option, What Should I Do First?
There are some great first steps you can take to help you process your situation and move forward. First, it's generally a good idea to confirm your pregnancy with your doctor or OBGYN. If you aren't sure where to start, coming to Avenue Women's Center to confirm your pregnancy with a medical-grade pregnancy test is a great idea! We can sit with you and help you figure out some resources such as finding reliable medical care for this time of your life.
No woman should have to face the possibility of an unexpected pregnancy alone, including you! If it's hard to fathom being pregnant, come to one of our centers to get some peace of mind and unhurried time to process what's next for you. All of our services are free of charge and confidential.
Schedule your free pregnancy test at a location near you!
_______________ 
Reference:
Reviewed by Patricia Kuenzi, APN-CNP, MSN, ANP, PNP.
The information provided here is general in nature.  It is not a substitute for a consultation with a medical professional. Before any medical procedure, it is imperative that you discuss your personal medical history, risks, and concerns with your doctor. If you have questions during or after a procedure, your doctor should be immediately contacted. Avenue Women's Center is not an emergency center.  If you are experiencing severe symptoms, such as bleeding and/or pain, seek immediate medical attention.  Contact your physician, go to an emergency room, or call 911.