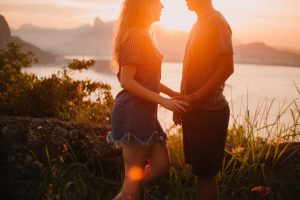 There's no doubt about it; an unexpected pregnancy is likely to affect a number of people in your life.  As a woman, you have the right and responsibility to make your own pregnancy decision.  You will likely be impacted by your pregnancy choice more than anyone else in your circle.  However, your boyfriend or partner may have their own feelings regarding the situation that you'd like to take into consideration.  Perhaps you're leaning towards having an abortion, but you're afraid this is not what your boyfriend would want.  Maybe you think that he'd resent you for ending your pregnancy.  Where do you turn for clarity and support?
Avenue Women's Center has been a fixture of the DuPage County, Illinois community for over 40 years!  We've assisted countless women and couples going through an unexpected pregnancy, so we understand how challenging it can be when you and your partner don't see eye to eye.  Our role is to provide the accurate, up-to-date information and resources you need to persevere with confidence. 
Check us out to learn what we're about!
Deciding to Include Him in Your Pregnancy Decision
In the state of Illinois, a pregnancy decision is fully in your hands as a woman experiencing an unexpected pregnancy.  Nobody else can make this choice for you.  A decision for abortion, adoption, or parenting does not belong to your boyfriend, regardless of whether or not he's the father.  However, many women may wish to include their boyfriends or partners in a pregnancy journey, processing complex emotions and possible steps forward alongside him.  Maybe your boyfriend has already expressed his opinion, or maybe this conversation hasn't taken place yet.  Either way, it may be helpful to ask yourself (and to ask your boyfriend when the time is right) why he would disagree with a decision to abort.  Perhaps you can open a door to mutual understanding by explaining your perspective and expressing that you care about his feelings.  Likewise, he needs to respect your point of view and never attempt to coerce you into making a particular pregnancy choice.  Keeping open lines of communication and listening to one another are healthy ways to approach your differences.
Support is Valuable- For Both of You!
As your journey continues, finding one or more trustworthy individuals to walk alongside you will be critical.  If your boyfriend is a major source of support, that's wonderful!  It can be helpful to confide in someone who is not personally involved in this situation as well, so you'll have the benefit of a fresher, more neutral perspective.  Your boyfriend may look for a confidante too, either independently or alongside you.  There's no need to feel offended if he seeks counsel apart from you.  He may just need to process these circumstances and your pregnancy decision with someone else that he trusts, and that's okay so long as you are respecting one another's privacy.  If you and he are building a support system together, a dependable, unbiased friend or professional may be able to mediate a conversation about your different perspectives.  You (and your partner) don't have to face the coming days alone.
At Avenue Women's Center, we offer practical, first-step services to confirm your pregnancy and evaluate how far along you may be.  Our expert team members are here to present accurate information about your options and resources.  But we also exist to offer support throughout this stressful time.  Your boyfriend is welcome to be a part of this process so long as you feel comfortable including him!
Contact us to schedule a confidential appointment at no cost!  Walk-ins are also welcome!
The information provided here is general in nature.  It is not a substitute for a consultation with a medical professional. Before any medical procedure, it is imperative that you discuss your personal medical history, risks, and concerns with your doctor. If you have questions during or after a procedure, your doctor should be immediately contacted. Avenue Women's Center is not an emergency center.  If you are experiencing severe symptoms, such as bleeding and/or pain, seek immediate medical attention.  Contact your physician, go to an emergency room, or call 911.