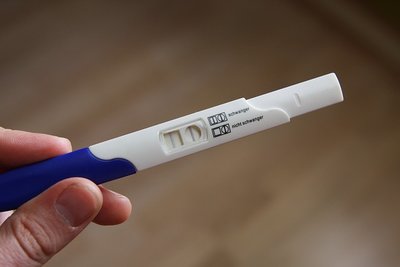 Your period is a few days late. You're confused because your symptoms are similar to your period, but your body feels a little bit different this time. Your mind races when you think about it. You hate to admit it, but you're wondering … Could I be pregnant?
If you're concerned about a possible pregnancy, Avenue Women's Center invites you to come into one of our five Chicagoland locations. We offer free, medical-grade pregnancy tests and confidential pregnancy consultations to discuss your results and options. Our caring and nonjudgmental client consultants are here to support you as face a potential unexpected pregnancy decision. Call, text, chat, or email us today and set up your free appointment.
Many women face anxiety when thinking about the possibility of being pregnant, so much that even the thought of taking a pregnancy test causes great fear and dread. It can be overwhelming to think about taking a test that might alter your world, and sometimes avoidance feels like the easiest answer. If you find yourself in this situation today, know that you are not alone. After spending time meeting women in similar situations at Avenue Women's Center, I've noticed that sometimes the most anxiety and fear occurs in the "waiting to find out" period. Your mind races a million miles a minute as you think about every "what if" situation and all the worst-case scenarios of what might happen if you were pregnant.
Often times, the best way to combat this anxiety is getting the real answers so you can begin figuring out your actions steps. Without knowing whether or not you're pregnant, you are unable to begin taking the next steps to calm your fears and relieve your anxieties. Instead, your mind can feel paralyzed, stuck on the "what ifs," and your anxiety can take a huge toll on your everyday life and happiness.
Take the first steps of facing your fears with a free, medical-grade pregnancy test at Avenue Women's Center. Our client advocates specialize in meeting with women facing anxiety about pregnancy. Here are just a few reasons why taking a pregnancy test with one of our counselors might be helpful for you: They remind you that you are not alone. Our client advocates focus on truly knowing you, your story, and your fears and want to support you in what you're going through. Taking a pregnancy test alone can be overwhelming, but our client advocates are there to make sure you feel cared for and heard.
They are women-centered, trusted professionals. At Avenue Women's Center, our pregnancy consultants are highly-trained professionals who meet with women facing similar situations on a daily basis. They are women-centered, which means they want what's best for YOU, and they are able to give you unbiased, professional advice.
They are there to talk through the next steps with you. Now that you've found out whether or not you're pregnant, it's time to talk through options to create action steps and help calm your anxieties. Our client advocates have information on all the options available to you, and give you expert advice and empathetic care. Instead of letting your mind continue racing, it's helpful to talk through next steps with a client advocate and get some answers on what you can choose to do next.
In whatever situation you find yourself in today, we hope that Avenue Women's Center can be there for you! Take a deep breath, and remember that even though taking a pregnancy test can be overwhelming, it ultimately can help calm your anxieties as you begin taking your next steps. Contact us to set up your free pregnancy test and private pregnancy consultation. We are here to support you as you face a possible pregnancy.
The information provided here is general in nature.  It is not a substitute for a consultation with a medical professional. Before any medical procedure, it is imperative that you discuss your personal medical history, risks, and concerns with your doctor. If you have questions during or after a procedure, your doctor should be immediately contacted. Avenue Women's Center is not an emergency center.  If you are experiencing severe symptoms, such as bleeding and/or pain, seek immediate medical attention.  Contact your physician, go to an emergency room, or call 911.