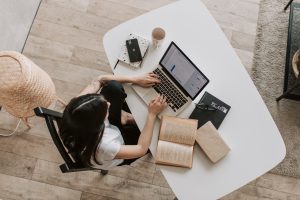 It can be such a downer when things seem to happen at just the wrong time. Maybe in the past, in the future, but, why now? Perhaps you're dealing with this disappointment or a bit of bitterness at this sudden turn of events. Finding out that you're unexpectedly pregnant as you're finishing college is a difficult circumstance to be in!
With a full course load and social calendar, you might feel like you have nowhere to turn to in your time of frustration. But with six DuPage County locations, free and confidential services, and a flexible schedule, Avenue Women's Center is here for you. As you process your news and your pregnancy options, we'd love to help you take your next steps.  
Connect with us through a call, chat, email, or text to get started!
When You Don't Even Have Time For Yourself
Being a student comes with its challenges. Maintaining a good sleep pattern, healthy habits, a class schedule, and possibly a job is a lot to keep track of! Adding an unexpected pregnancy and everything that comes along with this new situation might seem over the top.
Gather Information For Next Steps
If your concern about being pregnant while in college is that you don't or won't have the necessary support or resources to succeed, you may want to see what resources your college has available. Your school should have accommodations and should not penalize you for needing extra time to complete assignments or go to appointments.
Are You Equipped For Your Options?
When it comes to making a pregnancy decision, you always have three options: abortion, adoption, and pregnancy. While you might already be leaning toward one in particular, it's important to recognize that each comes with its own set of challenges. At this point in your decision-making process, it's crucial to take time to gather your thoughts and research each of your options so you know exactly what you're getting into and what to expect.
Finding Flexible Support
As busy as you are, you might be struggling with finding support during this time of your life. But finding people who are there for you, can offer advice, and lend a helping hand in your time of need can be so beneficial. These people could be friends, family, faith leaders, counselors, or somebody like a pregnancy consultant. Here at Avenue, we care about helping you and we want to do what we can to make sure you can get an appointment and the support you need.
We can tell that you're trying your best! Facing an unexpected while finishing college is challenging and you might feel isolated. If you're looking for extra support and a comforting resource to help you plan, we are here for you. We'd love to offer you our confidential and free limited services such as a medical-grade pregnancy test to confirm your pregnancy or an ultrasound exam to help you determine what possibilities are before you. We are here for you!
Making an appointment is as easy as texting us or self-scheduling! Don't let another day go by before you get the help you need.
The information provided here is general in nature.  It is not a substitute for a consultation with a medical professional. Before any medical procedure, it is imperative that you discuss your personal medical history, risks, and concerns with your doctor. If you have questions during or after a procedure, your doctor should be immediately contacted. Avenue Women's Center is not an emergency center.  If you are experiencing severe symptoms, such as bleeding and/or pain, seek immediate medical attention.  Contact your physician, go to an emergency room, or call 911.