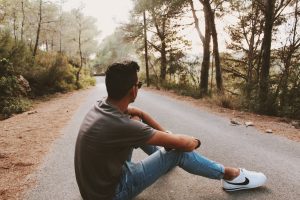 Whether you're married, dating, or seeing your partner casually, conflicting views on a pregnancy decision can be difficult to navigate.  This is often true regardless of your particular leanings and his.  Perhaps pregnancy wasn't a part of the plan for this relationship, so neither of you ever thought to discuss your beliefs about abortion, adoption, and parenthood.  Now, the shock of discovering an unexpected pregnancy has been compounded by your partner's surprising and/or differing reaction.  Maybe he has a desire to be a father and wants to continue the pregnancy, but you are leaning towards having an abortion.  So, what's a girl to do when her partner feels ready to be a dad and she's not on board?
Our expert staff at Avenue Women's Center has been providing pregnancy support to women and their partners since 1981.  We've walked alongside numerous women and couples experiencing an unexpected pregnancy, so we understand how challenging it can be when you and your partner aren't on the same page.  Our team is committed to providing high-quality first-step services and truthful information about your options, so you feel equipped to make the decision that is best for you.
Reach out to us today to schedule a free and confidential pregnancy consultation!
A Healthy Conversation
Maybe you've personally experienced how effective clear, respectful communication can be in managing stress in a relationship.  You and your partner may find it helpful to have an honest, thoughtful conversation about your situation.  Does he feel open to parenting right now?  By asking him about his feelings and how his experiences may have contributed to this preference, you may gain insight that helps you to empathize, whether or not you agree.  Ask yourself similar questions.  What emotions are beneath my leaning toward abortion, and where do these feelings come from?  How would having an abortion impact my short-term and long-term future, and his?  What would adoption mean?  And parenting? 
And, if your partner is open to it, explore questions like these together.  It may be beneficial to set aside a time and place where you can talk without distractions.  Consider writing down or thinking about what you would like to express ahead of the conversation.  This may prepare you to listen for the sake of understanding as well as responding, and hopefully, he will follow your example.
Gathering Information: Your First Best Step
In order to make healthy, informed decisions, it is critical to first learn about your specific pregnancy.  A great first step is to have an ultrasound exam to evaluate viability (the likelihood that the pregnancy will continue on its own) and assess for signs of ectopic pregnancy (which occurs when a fertilized egg implants outside of the uterus).  Some situations, such as ectopic pregnancy, require immediate medical attention.  And if your pregnancy is likely to miscarry, an abortion may not be necessary.
Additionally, learning about each of your options (abortion, adoption, and parenting) is highly recommended.  You will likely feel more confident in your pregnancy decision if you've considered the steps, resources, and risks/benefits associated with each possibility.  Your partner may want to participate in this process with you.  You may (or may not) feel comfortable including him in some or all aspects of your pregnancy journey.  Although you may value his perspective, know that a pregnancy decision is ultimately yours to make!  It's a responsibility that can feel both empowering and a little scary.  Because the pregnancy has taken place within your body, and because the choice belongs to you, each outcome is likely to impact you differently than your partner.
Abortion, adoption, and parenting all come with unique challenges.  It's natural to feel complex emotions when weighing the pros and cons of each, especially when you and your partner feel differently.  But you don't have to navigate this season of unexpected pregnancy on your own.  Our caring, nonjudgmental staff at Avenue Women's Center is here for you.  We provide pregnancy tests, limited medical ultrasounds, practical referrals, and pregnancy consultations among other supportive services.
Contact us today to schedule an appointment at our Darien, Elmhurst, Glen Ellyn / Lombard, Naperville, West Chicago, or Wood Dale, Illinois locations.
The information provided here is general in nature.  It is not a substitute for a consultation with a medical professional. Before any medical procedure, it is imperative that you discuss your personal medical history, risks, and concerns with your doctor. If you have questions during or after a procedure, your doctor should be immediately contacted. Avenue Women's Center is not an emergency center.  If you are experiencing severe symptoms, such as bleeding and/or pain, seek immediate medical attention.  Contact your physician, go to an emergency room, or call 911.