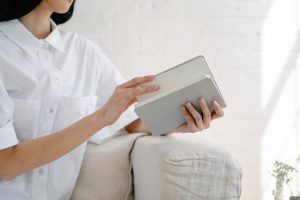 Perhaps your life is full of twists and turns and ups and downs. Maybe around every corner, something new comes up and seems to throw your plans into turmoil. Or someone in your life keeps going through a lot and you're the first one they reach out to. Whatever it is that's happening in your life, maybe you'd describe it this way: drama-filled. Now, with an unexpected positive pregnancy test, you find yourself unprepared for the drama pregnancy will inevitably bring to your life.
Feeling stressed as you face an unexpected pregnancy is completely normal. But figuring out how to deal with the overwhelming feelings or drama and move forward can be difficult. Avenue Women's Center is here for you at this time of your life! Our services are free and confidential so you can take your first steps.
Schedule an appointment with one of our pregnancy consultants today.
Processing With Yourself Before Sharing the News
As you think about what this news means to you perhaps you find yourself a bit stressed about what your friends or family might think. If this is the case, you might find it beneficial to take time to process on your own. Finding the time for this in a busy schedule can be difficult. Can you spare a few moments when you're not distracted and can take time to slow down and breathe? Ask yourself some questions to figure out how to move forward. You might consider things such as:
How do I feel about this pregnancy? Regardless of other opinions, what are my thoughts, desires, fears, dreams, or hopes about this news?
What have I gone through in my life that can give me the strength to face this situation?
Have I given thought to the options before me and what each option means to me now and possibly in the future?
Gather Your Resources to Make This as Drama Free as Possible
Regardless of the conclusion you arrive at through processing, you will need to figure out what resources and services are available to you. As you choose which option you'll take for this pregnancy, different steps and planning will be required of you. Figuring out what your insurance covers, what sort of assistance and community programs are available to you, or what sorts of appointments you need to make is all part of this step. Sometimes having somebody to help you brainstorm and make lists of what needs to get done can be beneficial. A close friend, your doctor, or a pregnancy consultant can partner with you to move forward.
Find Your Pillar of Support
If you know this pregnancy will certainly cause drama in your life or amongst your friends and family, you may want to put time into choosing one person to rely on during this time. This person should be trustworthy and be able to take away from the drama instead of add to it. Choosing somebody you've shared things with in the past and who has a good track record is important. This person should be able to listen to you, challenge you, and help you when you're in need.
Finding a moment of rest amid the busyness and drama you might find yourself in can be difficult. Here at Avenue Women's Center, we offer a space to breathe and take solid steps in your pregnancy journey. Be equipped with the information and support you need, all at no cost.
Reach out today to find out more about how we can help.
The information provided here is general in nature.  It is not a substitute for a consultation with a medical professional. Before any medical procedure, it is imperative that you discuss your personal medical history, risks, and concerns with your doctor. If you have questions during or after a procedure, your doctor should be immediately contacted. Avenue Women's Center is not an emergency center.  If you are experiencing severe symptoms, such as bleeding and/or pain, seek immediate medical attention.  Contact your physician, go to an emergency room, or call 911.