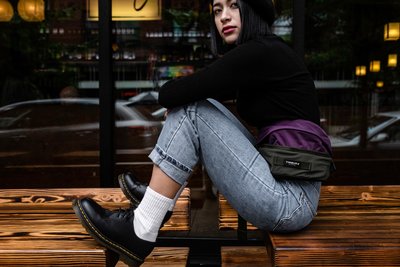 Becoming pregnant at a young age can be a shocking and daunting experience. You might find yourself exclaiming, "I'm too young to be pregnant!" and strongly considering abortion. If this is your current experience, you aren't alone. I've been where you are and I understand how you might be feeling: disbelief, overwhelmed, and possibly even scared. All of these emotions are normal, but there's more to consider with an abortion than just your young age and current feelings.
If you're considering abortion because you're too young, learn all the facts before making your decision. Avenue Women's Center offers nonjudgmental and informative support to answer your individual questions and concerns about abortion. Call, text, chat, or email us today to learn more about we can help you with a free pregnancy consultation to discuss your abortion options and alternatives.
My abortion experience started right after I turned 18. I walked across the graduation stage and accepted my high school diploma with excited anticipation of my future ahead. I was about to put myself through college in a couple months, venturing out into the world on my own. I was going to put the chaotic and traumatic turmoil of my then home life behind me. I was an adult at last—free to make my own choices and dream big!
But a week later, all of my aspirations and dreams were crushed with a positive result on a home pregnancy test. I took another one in disbelief, only to have the same positive result. "This HAS to be a mistake!" I thought to myself. We had used a condom for protection and prevention. But as I quickly learned, condoms aren't full proof. They can break, slip off, or have a tear that goes unnoticed. I didn't know what to do. I struggled with my options, leaning strongly toward abortion because of my young age.
I had been careful to take the tests when no one else was home, fearing the worst. I sobbed uncontrollably on my bedroom floor as I stared at the tests laid out before me. I don't know how long I cried, but the sun's shadows through the tree outside my window had changed. I finally peeled myself off the carpet and hid the pregnancy tests. I kept the pregnancy a secret for a few days before telling a friend I thought I could trust, who instead wound up shaming and judging me. I finally told my partner, who denied it was his and claimed I was trying to get him to pay for an abortion.
I felt so alone and so low, like this was all my fault. I didn't even really want the abortion, but I kept feeling like this pregnancy was a grave mistake I had made seeking love in the wrong ways. I felt that no matter where I turned, there was no one who would understand and even if they did, I didn't deserve anyone's empathy. This unexpected pregnancy was my sole responsibility, and one I felt like I couldn't handle on my own. Abortion seemed like the only option, so I scheduled an appointment and had the procedure just a week before my college life began.
Some women who have had an abortion feel like they made the right choice for themselves at the time. I am not one of them. Like many other women, I regret my abortion and wish I could tell my younger self that I had other options. I wish I could warn myself of all the emotional damage I would put myself through over the next couple decades. How I would struggle to forgive myself. I would say that I could have lived out my dreams even if I had continued the pregnancy. They would have been more challenging, but still possible. I could have chosen adoption and my family's opinions might not have been as detrimental as I thought they would be. Instead, I let the initial harsh treatment I experienced overwhelm me. I kept my abortion a secret for decades to come, suffering in silence and not speaking up.
This is my story, but it doesn't have to be yours. If you're only considering abortion because you're young, try to slow down and fully examine the reasons leading you to your pregnancy decision. Regardless of your personal situation, your young age doesn't have to dictate what you choose to do. You don't have to become a parent, but you also don't have to end this pregnancy with an abortion. There are other options that include your dreams, and it's important to know what's available to you as you try to make your best choice. This pregnancy decision is yours to make and deserves your careful consideration beyond just your young age.
Weighing your pregnancy options doesn't have to be a decision you make on your own. If you're considering abortion because you're too young to be pregnant, Avenue Women's Center can help you learn more information about your abortion options and alternatives. Avenue has supported women facing unexpected pregnancy decisions for over 30 years in the Chicagoland suburbs. Our nonjudgmental and caring team members are here to help you face this tough decision with compassionate and understanding support. Contact us today to set up your free, confidential, and private pregnancy consultation to learn more about your options.
The information provided here is general in nature.  It is not a substitute for a consultation with a medical professional. Before any medical procedure, it is imperative that you discuss your personal medical history, risks, and concerns with your doctor. If you have questions during or after a procedure, your doctor should be immediately contacted. Avenue Women's Center is not an emergency center.  If you are experiencing severe symptoms, such as bleeding and/or pain, seek immediate medical attention.  Contact your physician, go to an emergency room, or call 911.