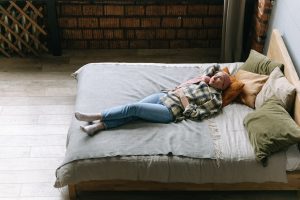 Past trauma can inform how we make current decisions. It can also serve as a lens through which we view what happens now and in the future. As much as we might want to forget what happened and move on, memories and pain can be hard to run from. Maybe you find yourself here because you're pregnant again after experiencing a previous traumatic pregnancy. Perhaps you don't know what to do or where to turn because all you can remember is the trauma of before.
Are you pregnant after a previous traumatic pregnancy? This can be an extremely distressing situation to find yourself in. Maybe you are going through painful memories or intense fear at this time. You might feel isolated right now, but you are not alone. Avenue Women's Center understands each woman's situation is unique and is here to walk with you during this time.
Schedule a meeting with one of our expert and caring consultants today.
Processing Your Pregnancy
It's really important to take some deep breaths and ground yourself. When we've experienced trauma it can be easy to be triggered into anxiety and remembering the pain of our memories and situation. You may find it helpful to rally some trusted friends or family members around you at this time. They can be there for you if you're overwhelmed or don't know how to cope, process, or move forward.
Finding Support
The past often informs our present. We make decisions based on what has happened and how things turned out. You may be viewing this pregnancy through only a lens of fear or expecting the worst. You know yourself, your body, and what happened in the past. However, having a supportive network of compassionate experts and professionals along with your friends and family can be comforting. You may want to visit a doctor, speak with a therapist, join a support group, or reach out to a first-step clinic like Avenue.
Gather Information
As you process and find support, it's also important for you to learn as much as possible. What are the chances of what happened in the past happening again? Is it possible continuing this pregnancy could yield different results? Do you have concerning health conditions that could make pregnancy difficult? Finding out through an ultrasound exam if your pregnancy is likely to continue on its own is crucial in helping you decide what to do.
Healing From the Past to Move Into Your Future
Whatever you decide with your pregnancy, if you're feeling difficult emotions and memories resurface, it may be time to seek healing. If you haven't already talked with somebody about your past trauma, you may want to reach out. Sometimes our pain and memories never fully heal, but we can learn how to cope with them and live free. Seeking healing can help us make decisions that we feel confident with and that aren't informed by fear.
The past informs our present, but what if your future could be different? At Avenue Women's Center, you can sit with a compassionate pregnancy consultant who can listen to your story, answer your questions, and walk with you as you process your pregnancy and make a decision. You don't have to be in this alone. We want to be here for you and offer you the resources we have available so you can courageously shape your future. 
Contact us today to make an appointment.
The information provided here is general in nature.  It is not a substitute for a consultation with a medical professional. Before any medical procedure, it is imperative that you discuss your personal medical history, risks, and concerns with your doctor. If you have questions during or after a procedure, your doctor should be immediately contacted. Avenue Women's Center is not an emergency center.  If you are experiencing severe symptoms, such as bleeding and/or pain, seek immediate medical attention.  Contact your physician, go to an emergency room, or call 911.