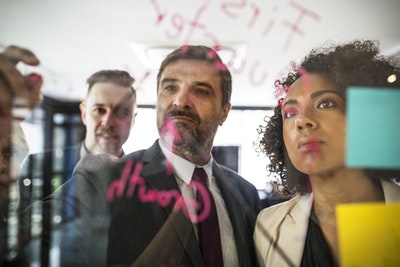 Finding out you are pregnant brings about many decisions that have to be made. Amongst working women, there is a consideration for when, if ever, someone should share the news with their employer. Today we'll take a look at this question and provide some helpful tips for consideration.
Avenue Women's Center is a women's limited medical clinic providing services geared towards unplanned pregnancy. If you have taken a positive test a home and would like to confirm your results or receive information on all of your pregnancy options, contact us today. Our services, such as medical grade pregnancy tests and private pregnancy consultations, among others, are offered at no cost to you. Call, chat, text or email for an appointment at one of our five DuPage County locations—Elmhurst, Glen Ellyn / Lombard, Naperville, West Chicago or Wood Dale, Illinois.
Determining when or if to tell your employer you're pregnant can feel like uncharted territory. There are many factors at play. The following are important considerations to take into account:
Plans for the Pregnancy
Determining when/if to tell your employer about the pregnancy will depend on what your plans are regarding the pregnancy. Are you looking into your pregnancy options? The first step is to determine what you would like to do. Every woman has three options—abortion, adoption, and parenting. (Find out more information regarding your options by visiting Avenue Women's Center.) The information we provide today in our article is geared towards women who are carrying to term either through parenting or making an adoption plan. If you decide to terminate your pregnancy, there are different considerations involved (i.e. requesting time off for the procedure/recovery).
Type of Work Performed
Many women take into consideration the type of work they are doing prior to talking to their employer. For those who work in industrial settings or perform manual labor, it may be suggested to share the news earlier. Speak to your doctor regarding what types of activities he/she recommends you abstaining from. Have a discussion about how pregnancy may restrict your work prior to bringing it up with your employer. When possible, also have a doctor's note on hand.
Who to Tell First?
Keep in mind that rumors are always a possibility at any workplace. If you tell a co-worker before you tell your employer, it very well could get back to them. It is ideal if you speak to your employer BEFORE sharing any news with your co-workers, so as to contain any potential leaks.
Know your Maternity Plan
Think through the plans for your maternity leave PRIOR to speaking with your employer. This will help them have an estimate of how long you'll be gone and when the leave may take place. It is beneficial to approach the topic with a plan in place. Also, if you think you may extend your leave, go ahead and estimate for the longest amount of time off. It's preferable to come back to work earlier than anticipated, than for you to not be there when they were counting on you to return.
We hope some of these tips have helped you think through when or if you will tell your employer you're pregnant. If you'd like further information regarding unplanned pregnancy, and some of the issues women face, Avenue Women's Center is available for assistance. Since 1981, we have been helping women navigate the ins and outs of unplanned pregnancy. Contact us today for a confidential consultation right away. We are here for you.
---
Reference:
The Washington Post. (2017, November) "So You're Pregnant. How Do You Tell Your Boss?" Retrieved from: https://www.washingtonpost.com/express/wp/2017/11/14/so-youre-pregnant-how-do-you-tell-your-boss/?noredirect=on&utm_term=.a1a1623870da
The information provided here is general in nature.  It is not a substitute for a consultation with a medical professional. Before any medical procedure, it is imperative that you discuss your personal medical history, risks, and concerns with your doctor. If you have questions during or after a procedure, your doctor should be immediately contacted. Avenue Women's Center is not an emergency center.  If you are experiencing severe symptoms, such as bleeding and/or pain, seek immediate medical attention.  Contact your physician, go to an emergency room, or call 911.