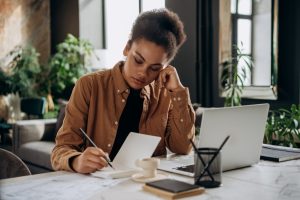 Sitting on your bathroom floor, you stare at your pregnancy test in disbelief.  How could the result be positive?  You're already a busy mom, juggling multiple responsibilities.  Perhaps you'd taken precautions to avoid this, or, for whatever reason, it didn't occur to you that this might happen again.  Now, as you slowly absorb this news of a possible pregnancy, you realize just how scared you feel of having another child.
Shock and fear are often felt by women going through an unexpected pregnancy, and these emotions can feel especially overwhelming for those who already have children.  Do you find yourself in this challenging situation?  Maybe you're afraid of being pregnant again because finances are tight, or you can barely handle your kids' schedules as it is.  Maybe you've been moving away from your partner emotionally.  You could be feeling anxious about this pregnancy for a number of reasons.  But remember that motherhood has already shaped you into a resilient woman.  You're strong enough to handle what's next, and you don't have to face the future alone.
Avenue Women's Center is an excellent first stop on your pregnancy journey.  We offer medical-grade pregnancy tests, limited medical ultrasounds, and additional services.  Our compassionate pregnancy consultants are available to process your result with you, provide information on your options, and connect you with resources. 
Reach out to us today and access the information and support you need to move forward with courage and confidence!
"The Thought of Having Another Kid Fills Me with Panic; What Should I Do?" 
Confirm your pregnancy.
After taking a few deep breaths, confirming the pregnancy is step number one.  A doctor can provide a urine-based or blood-based test that may be more reliable than the test you've taken at home.  Avenue Women's Center offers a free medical-grade pregnancy test that is 99.5% accurate just ten days after conception.  Once you know where you stand, you can take your next steps with a greater sense of clarity.
Learn more about your options.
If you come to find that you're definitely pregnant, a compassionate and knowledgeable pregnancy consultant is here to discuss all your options (abortion, adoption, and parenting).  She can also provide information on the many resources available.  At Avenue, we believe this will allow you to begin your decision-making process from an informed perspective.  Our expert staff is available to listen to your story if you feel comfortable sharing, and to process this news alongside you.
Learn more about your pregnancy.
It's always wise to gather as much information as you can about your pregnancy. Avenue Women's Center offers limited medical ultrasounds to assess the health of your pregnancy and how far along you are.  This is critical information to have in order to make an educated pregnancy decision.  An ultrasound can help determine if the pregnancy is expected to end naturally and if additional or immediate medical care is needed.
Gather available resources & support.
Throughout your pregnancy journey, keep on plugging into your resources!  A doctor can oversee your prenatal care and provide medical recommendations.  If you are feeling stretched financially, don't have medical insurance, need mental health counseling, or lack a support system, Avenue Women's Center can connect you with some game-changing resources in your area.
Take care of yourself.
Self-care is important, especially during stressful times.  Set aside time to relax and unwind, focusing on things you enjoy.  Spending time with the people you love may be a part of your self-care routine.  You may even feel comfortable asking some trustworthy friends or family members to be there for you emotionally during this season of change.  Support can have an incredibly positive influence on your feelings and outlook.
When faced with unexpected circumstances, it's natural to feel scared.  At Avenue, we're all about meeting your practical and emotional needs throughout this pregnancy journey.  All services are completely confidential and offered free of charge!  We believe all women should have full access to the information and resources they need to make an informed pregnancy decision with confidence. 
Schedule an appointment at one of our six centers in Chicagoland, Illinois!
The information provided here is general in nature.  It is not a substitute for a consultation with a medical professional. Before any medical procedure, it is imperative that you discuss your personal medical history, risks, and concerns with your doctor. If you have questions during or after a procedure, your doctor should be immediately contacted. Avenue Women's Center is not an emergency center.  If you are experiencing severe symptoms, such as bleeding and/or pain, seek immediate medical attention.  Contact your physician, go to an emergency room, or call 911.