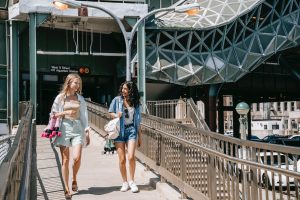 Has a friend recently confided in you about an unexpected pregnancy?  Maybe you know or suspect you're the only person in her life who's aware of this.  A lot of complex and challenging emotions may come with that realization!  Perhaps a part of you feels honored, because it's clear your friend trusts you enough to be sincere and vulnerable with you.  But you may feel burdened by the weight of her news too.  As the only person who knows about these circumstances, you may be fearful or perplexed because you're not sure what to do.  Many people in situations like yours feel pressure to intervene, even if they didn't ask for this information, and don't know how to help, because it seems like the full responsibility of supporting their friend falls on them.  Do you find yourself in this challenging place today?  Know that you're not alone!
Avenue Women's Center is here for you and your friend.  We're a first-step limited medical clinic offering free early pregnancy services to individuals facing an unexpected pregnancy.  If you're uncertain how to advocate for your friend, or if there's any confusion around her options and resources, we'd love to help!  Protecting your privacy is something our compassionate team cares deeply about and takes very seriously.  There are ways to help your friend access the care she needs without violating her trust.
Learn more about Avenue Women's Center!
Safeguarding Your Confidentiality and Your Friend's
Perhaps your friend and you have questions about her pregnancy, options, and resources, but neither of you feels ready to share any personal information at this time.  Avenue Women's Center gets it!  We want to make the process of connecting with our services and other resources as smooth and comfortable as possible.  Our expert staff would encourage any person to reach out and learn what avenues are available, even if she's not ready to provide names or other identifying facts.  If you or your friend decide to disclose anything, you can feel confident your confidentiality will be protected!
A Challenging and Potentially Inspiring Place to Find Yourself
If the opening paragraph of this blog resonated with you, chances are, you're a kind and loyal friend.  You may be uniquely equipped to encourage and empower your friend- probably more so than anyone else in her life.  Even so, it's important to set boundaries and have an appropriate view of where you stand.  Responsibility for this unexpected pregnancy falls on your friend's shoulders.  The pregnancy decision and eventual outcome do too.  You may wish to step in, and that would be a generous act if your friend is looking for help, but remember that you're playing a supporting role- not a primary one.  Be careful not to disregard your own needs and responsibilities as you navigate the days ahead.  Know when it's a good time to step forward and step back.  Accepting what you're accountable for (and what you're not) will likely provide some feelings of relief.
Why Are Avenue's Services Worth Trying?
So, what makes our early pregnancy services at Avenue helpful, especially when a pregnant person has limited means of support?  All our services (which include lab-quality pregnancy tests, limited medical ultrasounds, and options consultations) are practical, confidential, and free.  Our goal is to educate women and their loved ones so they can move forward feeling well-informed and being mindful of their own needs and resources.  Creating a safe environment where people feel listened to, cared for, and encouraged is a top priority for us.
We'd like to reiterate that, as the friend of someone experiencing an unexpected pregnancy, you've been presented with an opportunity to be a positive influence (without taking on any burdens that aren't yours to bear).  It's feasible to navigate these circumstances by your friend's side without breaching her trust.  Ask her how you can help without ever compromising your own values and beliefs.  Maybe that would involve helping her research her options or attending a pregnancy consultation with her for moral support.  At Avenue, we invite the women we serve to involve their loved ones in services and the pregnancy journey if they wish to do so.
If your friend is facing an unexpected pregnancy, and you're the only one who knows, both of you may be feeling isolated.  At Avenue Women's Center, we genuinely care about serving our clients and the significant people in their lives with excellence.  Neither you nor your friend has to face the future on your own.  Our attentive team is available to provide emotional and practical support!
We'd love to hear from you! Avenue offers a variety of easy ways to get in touch.  Call, text, email, or chat to connect with us and learn more about our services!
The information provided here is general in nature.  It is not a substitute for a consultation with a medical professional. Before any medical procedure, it is imperative that you discuss your personal medical history, risks, and concerns with your doctor. If you have questions during or after a procedure, your doctor should be immediately contacted. Avenue Women's Center is not an emergency center.  If you are experiencing severe symptoms, such as bleeding and/or pain, seek immediate medical attention.  Contact your physician, go to an emergency room, or call 911.