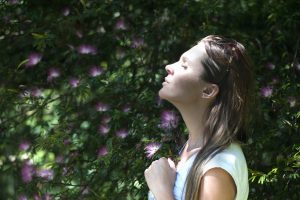 If you've recently received news of an unexpected pregnancy, tuning into the present moment without judgement may be the very last thing on your mind!  We human beings naturally step into crisis management mode when faced with unpredictable circumstances.  Perhaps you find yourself prioritizing the practical steps that feel necessary to protect your future.  Maybe you can't help but dwell on past decisions or situations that led to a positive pregnancy result.  No matter where your head is, mindfulness may be one of many tools that could help you cope.
Do you find it hard to focus on your mental health when it feels as though life has pulled the rug out from under you?  You're not alone!  Avenue Women's Center is a first-step limited medical clinic. We are here to help women manage the practical challenges and emotional pain of an unexpected pregnancy.  We offer a safe, non-judgmental space in which to access confidential early pregnancy services.
Call, text, chat, or email to connect with us!  All our services are free, and walk-ins are welcome!
Your First Steps
When faced with an unexpected pregnancy, confirming your result and learning about your pregnancy is the healthiest and safest way to begin your journey.  An ultrasound from a medical professional can offer insight into the health and age of your pregnancy, allowing you to take informed next steps.  Avenue Women's Center provides free and confidential lab-quality pregnancy tests, limited medical ultrasounds, and options consultations.  But we can also help you support your own mental health by providing professional counseling referrals, connecting you with resources to ease your anxiety, and simply being an encouraging presence.  It is possible to experience peace of mind in the first disorienting days of your unexpected pregnancy, in the following weeks, and beyond.
Mindfulness, Defined
Psychology Today defines mindfulness as, "a state of active, open attention to the present. This state is described as observing one's thoughts and feelings without judging them as good or bad."  In another words, mindfulness is a kind of meditation that focuses on recognition and acceptance of what's going on in the present moment- the thoughts running through your head, your emotions, and the sensations in your body- even if it's painful or uncomfortable. Mindfulness is used regularly as a stress management technique.  And it can be practiced in the counseling room or incorporated into every day activities like walking or eating.
Practical Ways to Exercise Mindfulness
Mindfulness is intended to help you better understand your thoughts and emotions, and to manage them, no matter what your circumstances are.  As you continue your pregnancy journey, consider trying these practices.  They may help you cope with the intense, complex emotions and feelings of regret that can sometimes come with an unexpected pregnancy.
Mindfulness often involves focusing on the breath, a constant rhythm that can help ground you to the present moment. Get into a comfortable position, perhaps closing your eyes, and begin taking slow, deep breaths.  Tune into your senses.  What are you seeing, smelling, hearing, feeling, or tasting?  Notice the sensation of air flowing in and out of your chest.
Consider the thoughts and feelings you're experiencing. Identify these and lean into them, even if it makes you uncomfortable.  Accept that you're having these thoughts and emotions. And accept your reaction to them, no matter what this reaction may be.
Continue to abide in this present moment. If your mind begins to wander, or you find yourself dwelling on the past or future, notice and accept this.  Your tendency to lose concentration at times is not something to feel bad about.  Simply re-direct your focus back to the present moment.  You're in a judgment-free zone.
Are you interested in accessing more information and exercises? There are many resources available!  Check out a mindfulness app, website, or book.
Avenue Women's Center has been walking alongside women on their pregnancy journeys for over 40 years.  We'd love to help you access the services, resources, and support you need to nurture your mental health and take your healthiest, most healing next steps.
Schedule an appointment today at our limited medical center in Darien, Elmhurst, Glen Ellyn / Lombard, Naperville, West Chicago, or Wood Dale, Illinois!
If you're having thoughts of harming yourself or others, contact 911, a licensed therapist or mental health counselor right away.
_______________
Reference:
Psychology Today.  (2022).  Mindfulness: Present Moment Awareness.  Retrieved from: https://www.psychologytoday.com/us/basics/mindfulness
The information provided here is general in nature.  It is not a substitute for a consultation with a medical professional. Before any medical procedure, it is imperative that you discuss your personal medical history, risks, and concerns with your doctor. If you have questions during or after a procedure, your doctor should be immediately contacted. Avenue Women's Center is not an emergency center.  If you are experiencing severe symptoms, such as bleeding and/or pain, seek immediate medical attention.  Contact your physician, go to an emergency room, or call 911.