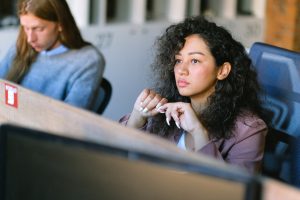 Perhaps an unexpected pregnancy is rocking your world right now. Maybe you don't know what to do, or where to turn, and you know about the abortion pill, but you're thinking there has to be another way forward. As time passes are you searching for an abortion pill alternative with no luck?
Struggling with the news of a pregnancy, unexpected or not, can be so difficult. Maybe you're not so into the idea of abortion, but you aren't so into the idea of continuing this pregnancy either. Knowing where to turn can be confusing, but Avenue Women's Center is here for you. We offer free and confidential pregnancy options consultations and we'd love to sit and chat with you soon! 
Reach out today to schedule a virtual appointment or one at a center near you.
What Is My Abortion Pill Alternative?
Maybe the idea of moving forward with this pregnancy causes anxiety, but maybe the idea of taking the abortion pill also gives you anxiety! Or perhaps you are concerned about the cost of the abortion pill. Searching for home remedies or alternatives for a first-trimester abortion probably won't yield many results. And, even if you find something, it's important to remember that these 'home remedies' or 'do-it-yourself' abortions can carry significant risks. Trying to self-induce abortion can be risky, especially if you are further along in your pregnancy than you realize. Using 'natural herbal remedies' found in books or on the internet is not only not guaranteed, but can carry other health risks. Anything designed to potentially end a pregnancy can harm other aspects of your body and health.
What Should I Know Before Choosing an Abortion Method?
It's important when considering abortion to gather more information about your pregnancy. How far along you are in the pregnancy will determine what kind of abortion you'd be eligible for in the first place. And, if your pregnancy is unlikely to continue on its own, abortion would become unnecessary. Lastly, it's important to make sure your pregnancy is not ectopic, as no abortion or herbal concoction will be the correct next step medically. You can learn all of these things through an ultrasound exam! Once you know the answers to these things, you'll be better equipped and prepared to make an informed decision moving forward. At Avenue Women's Center, we love providing free limited ultrasound exams for our clients!
Emergency Symptoms to Watch For
If you receive this information and decide to move forward with an abortion, be sure you have an emergency plan in place in case there are complications. Warning signs can be:
Excessive bleeding that won't stop
Severe cramping
Severe headache
Severe nausea or dizziness
If you ever experience these symptoms, you should contact a health provider or go to the emergency room right away.
If you're finding conflicting information about abortion and abortion pill alternatives, get the information you need today. At Avenue Women's Center, we are passionate about providing accurate options information as well as looking out for your holistic wellbeing and health. Our compassionate and knowledgeable consultants can answer your questions and concerns and schedule you for a free limited ultrasound exam with us!
Be empowered: walk-in or schedule an appointment at an Avenue Women's Center near you today.
Reviewed by Patricia Kuenzi, APN-CNP, MSN, ANP, PNP.
The information provided here is general in nature.  It is not a substitute for a consultation with a medical professional. Before any medical procedure, it is imperative that you discuss your personal medical history, risks, and concerns with your doctor. If you have questions during or after a procedure, your doctor should be immediately contacted. Avenue Women's Center is not an emergency center.  If you are experiencing severe symptoms, such as bleeding and/or pain, seek immediate medical attention.  Contact your physician, go to an emergency room, or call 911.