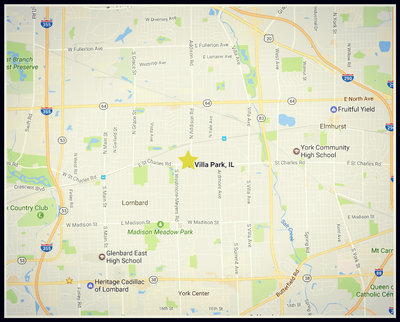 Convenience is a key factor when we are looking for services. When we forgot to buy the eggs we need for a recipe, we run to the nearest grocery store. When we find out about that last minute birthday party, we head to the closest mall to get that perfect gift. Pregnancy Services are in a whole different realm than groceries and gifts… but our desire for convenience remains the same.
Are you looking for a free pregnancy test in Villa Park? Avenue Women's Center has two options that are less than 10 minutes away! Our Elmhurst and Glen Ellyn / Lombard locations are each just 4 miles from Villa Park. If either of those will provide the convenience you're looking for, please call us today!
In addition to being conveniently located, we try to make our services as convenient as possible. Immediate appointments are usually available, and we accommodate walk-ins whenever we're able. Clients are welcomed back promptly for their appointments. And there's no waiting for results; the pregnancy test is read during the consultation.
Another aspect of convenience is the way you're treated. It is important to us that you feel comfortable and totally respected! We promise that all of our locations are staffed with caring and compassionate pregnancy experts. If your test indicates a pregnancy, you will be gathering information and navigating decisions. For most of our clients, this means processing your pros & cons of parenting, abortion, and maybe even adoption. If you need to get through those early steps of facing an unexpected pregnancy, your client advocate will be by your side, providing the support you deserve. These private pregnancy consultations are also a free service at Avenue Women's Center.
If you've been searching for a free pregnancy test in Villa Park, we hope this article has answered some of your questions. Whatever else you want to ask – please call or text us today! We are here and ready to help you.
The information provided here is general in nature.  It is not a substitute for a consultation with a medical professional. Before any medical procedure, it is imperative that you discuss your personal medical history, risks, and concerns with your doctor. If you have questions during or after a procedure, your doctor should be immediately contacted. Avenue Women's Center is not an emergency center.  If you are experiencing severe symptoms, such as bleeding and/or pain, seek immediate medical attention.  Contact your physician, go to an emergency room, or call 911.