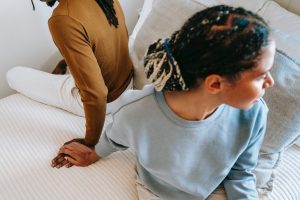 An unexpected pregnancy can disrupt your life, putting added stress on a partner-to-partner relationship.  As if maintaining a healthy relationship during "normal" seasons of life wasn't challenging enough!  Perhaps you're dealing with an unexpected pregnancy today, and you're wondering how your connection with your partner may be impacted.  If the title of this blog caught your attention, chances are, you care about him (or her) and want the relationship to continue- whether you're married, dating, or just friends.  Each of these relationships comes with unique challenges, especially when you're coping with an overwhelming situation like an unexpected pregnancy.  Still, there are practical steps you can take to maintain-or even strengthen- your bond during hard times no matter how you'd describe your relationship.
At Avenue Women's Center, it's our goal to help persons cope well with an unexpected pregnancy and make an informed, empowered pregnancy decision in the long run.  Our expert staff recognizes that, for some individuals, maintaining a supportive partner-to-partner relationship is an important part of this process.  We provide free services like medical-grade pregnancy tests and limited medical ultrasounds.  But we're also here to process your circumstances by your side and help you build a thriving support network. 
Learn more about Avenue Women's Center!  A caring team member is available to connect and answer questions about our services!
Tips to Keep Your Relationship Strong
Here are a few practices that may be helpful to apply during any season of a relationship, especially when you're both facing stressful circumstances.
Keep open lines of healthy communication.
Tense conditions and significant decisions can naturally cause conflict.  If you and your partner are having a tough time navigating an unexpected pregnancy, you may be pulling away from one another emotionally.  It's healthy to spend some time processing your circumstances on your own or with other trustworthy people.  However, maintaining honest but respectful communication with your partner will be critical to keeping your relationship strong.  Invite him or her to share thoughts and feelings during private moments when you're both in a relatively calm mental space.  Express what this experience has been like for you, and what you're hoping for, with thoughtful words and tone.
Show each other grace, but set reasonable boundaries when needed.
Most of us don't behave like our "best selves" when stress levels are high.  You may need to forgive your partner many times throughout this pregnancy journey.  He or she will probably need to forgive you too.  There may be times when it's necessary to set boundaries with your partner and communicate clearly (but courteously) that you expect to be treated with respect.  Offering and receiving feedback- both positive and negative- with grace is a hallmark of a healthy relationship.
Spend time nourishing your relationship.
When tensions are high, it's important to make space in your schedule to enjoy each other's company.  It may be challenging to mentally "step away" from the unexpected pregnancy when you're together.  But doing just that occasionally, with purpose, can nourish your relationship at the most essential time.  Go on a date and talk about something you're both interested in- something that has nothing to do with the pregnancy.  Watch funny videos and laugh together.  Moments like these can help you reconnect and remind you why this relationship matters to you.
Our team at Avenue understands that an unexpected pregnancy can trigger differences of opinion, which can trigger conflict.  And conflict can be especially difficult to manage when you're both feeling overwhelmed.  Maintaining a healthy relationship is hard.  We get it!  We're here to strengthen and support you as you figure out your next best steps. 
Our no-cost early pregnancy services include pregnancy consultations, which offer an opportunity to explore all available options and resources alongside an expert consultant.  Your partner may be included in this discussion too.  Sometimes, it's helpful to talk with a neutral party present.  And if you need additional support from someone like a mental health professional, our staff can help you make that connection. 
Schedule an appointment today!  We provide virtual consultations and in-person services at six limited medical clinics in Chicagoland, Illinois!
The information provided here is general in nature.  It is not a substitute for a consultation with a medical professional. Before any medical procedure, it is imperative that you discuss your personal medical history, risks, and concerns with your doctor. If you have questions during or after a procedure, your doctor should be immediately contacted. Avenue Women's Center is not an emergency center.  If you are experiencing severe symptoms, such as bleeding and/or pain, seek immediate medical attention.  Contact your physician, go to an emergency room, or call 911.