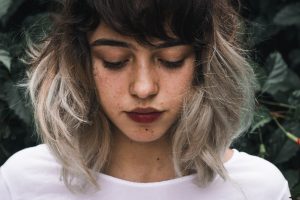 Abortion is a difficult decision for many women, even when their other options seem unthinkable.  Nobody hopes for an unexpected pregnancy or an abortion.  Nevertheless, women faced with these overwhelming circumstances often believe that ending the pregnancy is their best or only option.  If you're considering abortion, you may be wrestling with complex emotions around this.  Perhaps you're processing many factors at once, including your own values, beliefs, hopes, and feelings (and those of others).  Contemplating your pregnancy options may be an exhausting but necessary part of your journey, so mental self-care is going to be important in the days ahead.  Fortunately, there are tools and resources available to empower you!
An unexpected pregnancy is an incredibly stressful experience for most women, and understandably so.  Every pregnancy option comes with unique challenges, so it can be very difficult to determine which decision is best.  Avenue Women's Center has been walking alongside women as they face this dilemma since 1981.  Perhaps you're experiencing self-imposed or outside pressure that's taking a toll on your mental health.  We get it, and we're here to offer resources and support to lighten your load.
Call, text, chat, or email to schedule a pregnancy consultation!  Our compassionate team is here for you.
Chances Are, You Have Some Time to Process.  Use That Time Well
Whether you feel certain or conflicted about a future abortion decision, you may be longing for peace of mind more than anything.  Perhaps ending the pregnancy seems like the surest way to restore harmony, but it's important to explore the potential outcomes of abortion along with your other pregnancy options.  Consider giving yourself some time and space to let the news of your unexpected pregnancy sink in.  Women often discover the pregnancy early enough that there's time for careful consideration before abortion becomes off-limits.  Once you've had an opportunity to process your circumstances and assess your available resources, you may feel calmer and better equipped to make your pregnancy decision.
The Value of First-Step Pregnancy Services
This time between discovering your pregnancy and making a pregnancy choice can be confusing and overwhelming, but you don't have to navigate it alone!  Avenue Women's Center meets you exactly where you are by offering free first-step pregnancy services like lab-quality pregnancy tests and limited medical ultrasounds.  An ultrasound can assess for important factors like the possibility of your pregnancy ending naturally, or pregnancy complications that may require attention from a medical provider.  Our goal is to equip you with knowledge about your pregnancy and all your options and resources so you can make a fully-informed pregnancy decision.  We hope and believe that this reliable information, combined with caring support, will help you take your next steps from a healthier mental space.
Additional Tips for Maintaining Mental Health During an Unexpected Pregnancy
Consider incorporating these other practices into your daily and weekly routines.
Make mindfulness a habit.
Mindfulness involves meditating on the present moment, and all its feelings and sensations, without judgment.  You can practice this by drawing focus to your 5 senses during everyday activities like walking and eating.  There are many apps, websites, and books available to help you learn more about mindfulness techniques.
Strengthen your support system.
Do you have trustworthy people in your life who've stood by your side no matter what?  If so, consider sharing your story and processing your circumstances alongside them.  Human beings are made for community, so leaning on the support of others may be vital to coping with your unexpected pregnancy.  If you need support, Avenue can play a role in helping you connect with compassionate people who can help.
Show yourself some love.
Give yourself permission to enjoy life.  It may be challenging to mentally "step away" from your concerns.  However, engaging in fun and intentional activities like dining out, watching a favorite movie, or grabbing coffee with a friend may naturally bring about happier feelings and a sense of refreshment.
Seek professional support as needed.
If instinct says you need mental health counseling to manage this unexpected pregnancy, listen.  Seeking professional support is a healthy and courageous strategy that many people use to cope with life's challenges.
Nurture your spiritual health.
For many people of faith and individuals with spiritual beliefs, spiritual and mental/emotional health are closely linked.  Perhaps a practice like prayer or meditation could assist you in moving toward a place of peace, healing, and mental clarity.
Whether you're considering abortion, adoption, or parenting, your mental health is important and needs attention.  Unfortunately, it's all too easy to neglect your mental/emotional health during a particularly stressful life season.  But by prioritizing every aspect of your health, you may feel better equipped to navigate your pregnancy journey with clarity and confidence.  Avenue Women's Center is here to support you in this!
Schedule an appointment today at one of our six locations in Darien, Elmhurst, Lombard / Glen Ellyn, Naperville, West Chicago, or Wood Dale, Illinois!
The information provided here is general in nature.  It is not a substitute for a consultation with a medical professional. Before any medical procedure, it is imperative that you discuss your personal medical history, risks, and concerns with your doctor. If you have questions during or after a procedure, your doctor should be immediately contacted. Avenue Women's Center is not an emergency center.  If you are experiencing severe symptoms, such as bleeding and/or pain, seek immediate medical attention.  Contact your physician, go to an emergency room, or call 911.