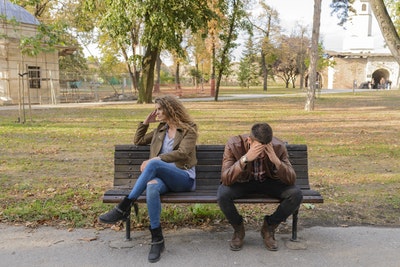 I was in two abusive relationships many years ago. I know how the cycle of abuse can evolve—when you say to yourself that you've had enough and you're going to leave. Then your partner seems remorseful, apologizes, says it'll never happen again, he loves you, and showers you with kindness. You think, "This time it'll be different," "I can change him," or "I'll try harder and it won't happen again." But it doesn't, and you only wind up back into being abused again. It can be difficult to walk away from an abusive relationship—especially if you find out you're unexpectedly pregnant. You might know the best thing you can do is get away from the abuse, but knowing and doing can be very different things when your heart still feels connected to your partner. How can you face this pregnancy decision AND end an abusive relationship all at once?
Facing an unexpected pregnancy can be challenging in any situation, let alone an abusive relationship. But there are safe and caring places to turn for help. Avenue Women's Center offers free and confidential pregnancy consultations at each of our five locations in the DuPage County area of Illinois. Your concerns will be addressed in a secure and private space with our compassionate client consultants trained in helping women face unexpected pregnancies. Reach out to us today as your first courageous step to schedule your free appointment and let us help support you as face your pregnancy decision.
Living in an abusive relationship can seem like a never-ending cycle you might feel trapped within. You might find yourself wondering how you become entangled in this abusive relationship, and how you're going to end it while being pregnant. You aren't alone. "Researchers have estimated that every year in the U.S., over 300,000 pregnant women experience IPV [intimate partner violence]" according to the National Institutes of Health. IPV can include "physical abuse, psychologic abuse, sexual violence, and reproductive coercion" as stated by The American College of Obstetricians and Gynecologists (ACOG). It might feel impossibly overwhelming to move forward or reach out for help. But you deserve to be safe. You deserve to be treated with dignity and respect.
The person who is mistreating you may try to manipulate you by telling you that it's your fault. Despite whatever your partner is telling you, there is nothing that you could possibly do to deserve abuse! The person may even threaten you about leaving and try convincing you to stay with false promises that the abuse behavior will never happen again. But if you let them convince you, believe me, it most likely will happen again. It can be hard to block out words from someone you love and care about, but try to hold on to the truth of how much you are worth. These are just lies to manipulate you into staying. Even if your partner believes what they are saying, it doesn't make any of it true.
It's time to break the cycle. I know how hard this can all be, but once you've been out of the situation you could have a clearer perspective of how destructive and dangerous this relationship has been. I escaped my abusers and eventually had a mutually supportive marriage with a great deal of love and respect. I learned that I deserved the loving, gentle way my husband treated me. This is not to say that you need to be in a relationship in order to find happiness and peace. Happiness can come into your life in many different forms, and once you end an abusive relationship you'll have the freedom to learn what your personal happiness could look like—even with an unexpected pregnancy.
Stepping away from an abusive relationship can be the best choice you make for yourself as you face an unexpected pregnancy decision. Take the first steps of your decision at Avenue Women's Center with a supportive and confidential pregnancy consultation. Our caring consultants understand that each woman faces different challenges with an unexpected pregnancy, and we are here to provide a safe and secure place to address your concerns as you consider your options. Call, text, chat, or email us today and learn more about how we can help support you.
Resources for Help:
If you are being abused, reach out for help. The following resources can help you find your path toward safety with various services, including women's shelters, counseling, and legal help in finding protection.
Family Shelter Service: Free services to help heal victims of domestic violence. Visit www.familyshelterservice.org or dial the hotline at 630-469-5650.
Illinois Coalition Against Domestic Violence: Find services in your area according to your unique needs by visiting http://www.ilcadv.org/get_help_now/victim_services.asp.
Illinois Department of Human Services (IDHS): Domestic Violence Victim Services are detailed at http://www.dhs.state.il.us/page.aspx?item=30275. Or call the confidential and multilingual Domestic Violence Helpline at 877-863-6338 / 877-863-6339 (TTY).
National Domestic Violence Hotline: Details about support and resources offered are at https://www.thehotline.org/help/. The confidential hotline is 800-799-7233 / 800-787-3224 (TTY).
YWCA West Suburban Center: Confidential counseling for victims of rape or sexual assault in Chicago and Chicagoland suburbs. Learn more at www.ywcachicago.org or call the 24-hour anonymous crisis hotline at 630-971-3927.
Always call 911 right away if you feel like you are in physical danger or may be subject to abuse.
---
References:
National Institutes of Health. International Journal of Women's Health. Bailey, Beth A. (2010, August). Partner violence during pregnancy: prevalence, effects, screening, and management. Retrieved from: https://www.ncbi.nlm.nih.gov/pmc/articles/PMC2971723/.
The American College of Obstetricians and Gynecologists (ACOG). (2012, February). Intimate Partner Violence. Retrieved from: https://www.acog.org/Clinical-Guidance-and-Publications/Committee-Opinions/Committee-on-Health-Care-for-Underserved-Women/Intimate-Partner-Violence.
The information provided here is general in nature.  It is not a substitute for a consultation with a medical professional. Before any medical procedure, it is imperative that you discuss your personal medical history, risks, and concerns with your doctor. If you have questions during or after a procedure, your doctor should be immediately contacted. Avenue Women's Center is not an emergency center.  If you are experiencing severe symptoms, such as bleeding and/or pain, seek immediate medical attention.  Contact your physician, go to an emergency room, or call 911.