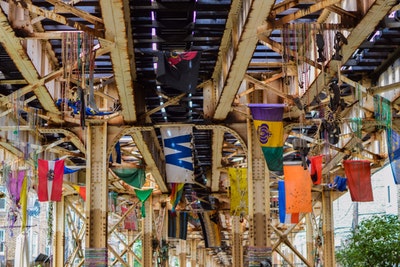 How do our choices shape the outcome of our lives? Does what I decide now as a young adult or teenager impact how my life will turn out 20 years from now? Perhaps when it comes to an unexpected pregnancy, it does.
Avenue Women's Center is a limited medical clinic providing services geared towards unexpected pregnancy in the Chicagoland area for over 30 years. If you think you might be pregnant or recently took a positive test, contact us for your next steps. Our expert client advocates will provide you with information and support as you seek to make the pregnancy decision that is right for you. Call, chat, email or text today for an appointment at one of our five DuPage County locations.
My eight year old granddaughter was over the other day and decided to draw a picture of all the things that are important to her. As we talked about the different pictures on her drawing it occurred to me why don't I have a flag made showing all her favorite things to hang in her room?
I went to a custom flag company and they were able to do just that. It ended up being a beautiful project for my granddaughter, but more importantly, it got me thinking. If I made a flag representing my life what would I put on it? Quickly I came up with a list of my favorite activities and people in my life. I wondered as I worked on this idea, how my flag at age 16 may be different from my flag at 60 yrs. old. The new clothes, a cute boyfriend, and dream car that were center stage at 16 no longer took priority.
I bring this up because now is the best time to think about what you want your life to be like in 20 years. As you are reading this you may be a teenager or young adult. You may have hopes for a spouse or significant partner, maybe a child or two, a nice job and a home on your future flag. To make the flag in 20 years a reality, you will have to make the choices that will lead you down that path.
What happens if you are experiencing an unexpected pregnancy? Will that impact your future flag? The tendency may be to make an immediate pregnancy decision without considering the impact this may have on the next ten or twenty years. Take a moment now to gather information and process through your decision, while you have the opportunity. This is a decision that can impact the future, regardless of which pregnancy option you choose.
In all of this, Avenue Women's Center is here to help. We understand that pregnancy decisions are important and oftentimes, life-altering. We provide a caring, nonjudgmental environment to process through your pregnancy decision with a client advocate. You will receive helpful services and important information to take your next steps. Call, chat, email or text for an appointment right away. We are here for you!
The information provided here is general in nature.  It is not a substitute for a consultation with a medical professional. Before any medical procedure, it is imperative that you discuss your personal medical history, risks, and concerns with your doctor. If you have questions during or after a procedure, your doctor should be immediately contacted. Avenue Women's Center is not an emergency center.  If you are experiencing severe symptoms, such as bleeding and/or pain, seek immediate medical attention.  Contact your physician, go to an emergency room, or call 911.