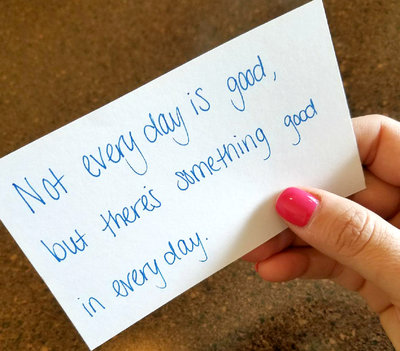 Some days are harder than others. A motto I've learned to live by is "Not every day is good, but there is something good in every day." Recently, on one of my "not-so-good" days, I received a text message from a prior client that turned everything around. Before I tell you what she said, let's go back a ways.
Almost a year ago, my sweet client was facing an unplanned pregnancy. Avenue Women's Center provided services such as a medical grade pregnancy test, an ultrasound to evaluate her pregnancy's viability, and options information. We walked through what parenting could look like for her, the potential for forming an adoption plan, and her thoughts on abortion. Due to her young age and circumstances, she viewed abortion as her best option, so we walked through what methods she still qualified for, possible physical and emotional risks, and her opinions surrounding having an abortion. Weeks later, when she obtained her abortion, I told her I wasn't going anywhere. I was still just a call or text away. I wasn't done supporting her.
If you would like support as you face an unplanned pregnancy, please contact us today.
This last year has been full of ups and downs for this sweet client, but one big "down" phase hit about a month ago, so I offered for her to come back in and talk. She shared that she was having trouble having positive self esteem, seeing herself as valuable and important, and seeing the good in her life. An idea popped into my mind to have her write down on a notecard "truths" about herself-things she knew to be true about her character, her worth, and her uniqueness. I encouraged her to write down quotes and encouragement on other index cards and to keep them with her so she could read them to remind herself of truth when she was having a hard day. This is what she wrote about herself:
"I have enough self respect to stand up for myself, even through anxiety and fear. I always try to smile and laugh through the hard times. I am loyal, respectful, and genuine. I don't conform so I'm authentic and truly myself. I know my talents and skills and how to use them. I've been told I radiate beauty when I'm happy, so I always wake up and do something I know will start my day right. I'm smart. I'm funny. I'm kind. I'm always there for the people in my life."
I was in tears at her honesty and bravery that came with identifying those truths.
Fast-forward to earlier this week when I was having my "not-so-good" day…This sweet client, out of the blue, sent me a message saying, "The note cards have been really helping me! I've saved a bunch of inspirational quotes and psalms too. All of these things I'm doing now are really bringing my spirit up again. I find myself living each day by a certain psalm or quote and it makes it much easier. Thank you for sharing the note card idea with me 😊 you're amazing at what you do!"
It's amazing how easily one person's positivity can turn a day around. What a joy it is to have been able to do that for this client, and then she, unknowingly did the same for me.
If you're in Chicagoland and dealing with an unplanned pregnancy, I want to be that encouragement and voice of support in your life.
You are not alone. Whatever your pregnancy questions, or to schedule your free options consultation, please call or text Avenue Women's Center today.
The information provided here is general in nature.  It is not a substitute for a consultation with a medical professional. Before any medical procedure, it is imperative that you discuss your personal medical history, risks, and concerns with your doctor. If you have questions during or after a procedure, your doctor should be immediately contacted. Avenue Women's Center is not an emergency center.  If you are experiencing severe symptoms, such as bleeding and/or pain, seek immediate medical attention.  Contact your physician, go to an emergency room, or call 911.