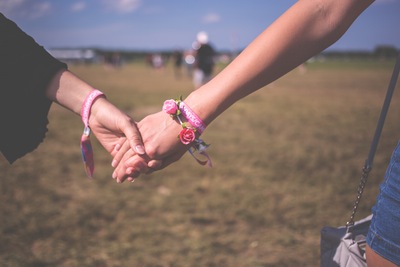 Emily and Sara have been best friends since third grade. Now in their senior year of high school, they anxiously await graduation and attending the same college together.
Both Emily and Sara have done everything together, and always shared secrets. One day, Sara approached Emily with a secret neither of them was ever expecting to share.
"I think I might be pregnant."
Emily was shocked. Of all the things the two of them have been through, and the secrets they've shared with each other, pregnancy was the last thing on Emily's mind. She knew Sara had just started seeing a guy, but she never expected her friend to end up in this situation.
Sara starting crying. "What should I do Emily? I have no clue how to deal with this. We start college in just a few months!"
Emily sat down next to her friend and gave her a hug. She had her own thoughts racing through her mind. What should I do? I don't even know what to say! I've never been in this situation…
Emily turned to her friend. "Are you sure you're pregnant? Did you take a test? How does your body feel?"
"My period is three days late. I'm never late. And I'm tired and hungry all the time. I feel dizzy. I just want to lie down and not get up." Sara started crying again.
There must be something I can do, thought Emily. "Let's just get a test to see if you actually are pregnant. Then we can go from there. How does that sound? I know this is scary, but let's take it one step at time. I won't let you go through this alone, okay?"
Sara smiled. "Okay. I know you won't leave me. No one else knows yet. Not even Mike. I mean, we hardly know each other still. How could I tell him this?"
"Like I said, Sara, one step at a time. Let's figure out where to get a test." Emily pulled out her phone.
Sara put her face in her hands and leaned up against Emily. "I don't want anyone knowing about this. Please. Not yet. And I definitely don't have money to pay for a test."
"So let's find someone to talk to. Maybe someone who doesn't know you but could help. Let's just Google 'free pregnancy tests.' Maybe there's a place we could get one," said Emily.
Sara just shook her head, more tears rolling down her face. "How did this happen? I'm scared!"
Emily gave her friend's hand a squeeze. "It's okay to be scared," she said. "Don't worry, we'll figure this out. The only way from down is to go up."
Although the story of Emily and Sara is fictional, it represents situations that we encounter every day. At Avenue Women's Center, we love when friends stand by each other, and step out to provide real help! Here are some tips that may help you.
How to Support a Friend Who's Facing an Unplanned Pregnancy:
Avoid judgment. Your friend is already feeling bad. This isn't the time to criticize the choices that brought her to this point.
Listen. It can be tempting to jump in with advice. Make sure you're providing the space for your friend to share the concerns that are important to her.
Stay close to her. If she told you her secret, she is reaching out to you. Even if you don't know what to do, just being at her side and checking in with her will make a big difference.
Keep it confidential. You may feel the need to tell "just one person." You want support too! But once you've told one person… and they tell one person… your friend's trust has been violated.
Know when to tell. Yep, we're contradicting ourselves. Is your friend putting herself in danger? Especially if she's a minor, know when to involve another person. Most minors have access to some trusted adult – a parent, counselor, school advisor, or youth leader. If a situation is too big for you, don't hesitate to consult someone who will be able to provide wise counsel.
Seek appropriate assistance. Obviously, Avenue Women's Center is here to help any woman who is facing an unplanned pregnancy. That is the reason we're here. And we're here to help confidentially, without cost.
How Avenue Women's Center Can Help You:
First, by providing real support. Real support comes from our hearts. We treat every client nonjudgmentally, with respect and compassion. Support also comes from our position. As a nonprofit clinic, we do not stand to benefit from any of our clients' choices. We are free to absolutely offer our care as each woman sets her personal best direction for her situation.
Pregnancy tests. Ours are available at no cost. They are lab-quality, and highly accurate. Having a pregnancy confirmed is a helpful starting place for most women.
Free consultations. Each appointment is geared to the unique needs of our client. Some women are ready to gather facts on resources and options. Other women are still reeling. They appreciate having a professional to help as they process through their feelings and pressures. Maybe you fall between those extremes. However we can help, we are here for you.
To continue our story, through her search, Emily found avenuewomenscenter.com and scheduled Sara an appointment for a free pregnancy test. Emily was able to accompany Sara and be the support her friend needed during this time. Sara learned all her options regarding her pregnancy and what each option meant for her. She developed confidence in her best decisions. She was grateful for the kindness, nonjudgmental attitude, and encouragement of her friend.
It can be difficult to be the friend that gets confided in about an unplanned pregnancy, especially if you're not sure how to help. If you find yourself in that situation now, you're at the right place. Please contact Avenue Women's Center today to ask your questions or schedule an appointment. We have offices in Elmhurst, Glen Ellyn / Lombard, Naperville, West Chicago and Wood Dale, Illinois. You and your friend can come in and get all the information she needs moving forward.
Your friend is lucky to have you at her side.
The information provided here is general in nature.  It is not a substitute for a consultation with a medical professional. Before any medical procedure, it is imperative that you discuss your personal medical history, risks, and concerns with your doctor. If you have questions during or after a procedure, your doctor should be immediately contacted. Avenue Women's Center is not an emergency center.  If you are experiencing severe symptoms, such as bleeding and/or pain, seek immediate medical attention.  Contact your physician, go to an emergency room, or call 911.