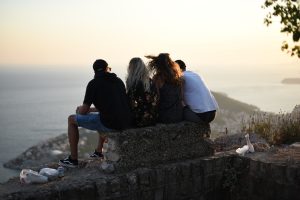 While going through difficult things in our own life can be distressing, what about when it's our friend? Sometimes when somebody close to us is going through something hard, we feel helpless and unsure about how to support them. Perhaps your friend recently told you she is pregnant and she wants to get an abortion. What do you do from here and how will you support her?
Are you unsure how to support your friend as she moves toward having an abortion for her unexpected pregnancy? Avenue Women's Center has been assisting women facing unexpected pregnancies since 1981. We're here to equip you and your friend for the next steps. Neither of you have to walk this path alone.
Reach out to us today for information on how to help your friend!
Supporting Your Friend Through Unexpected Pregnancy
If you've never gone through something like an unexpected pregnancy before, it can be difficult knowing how to support your friend. You might not even know where to start, or you might feel as if you can't offer help since you don't know what she's going through.
If your friend trusts you enough to confide in you, chances are she'd be willing to listen to your advice. As her trusted friend, it's important that you are responsible with this news and look out for your friend's best interests.
Practical Ways to Help
As her friend, you want to make sure she is making well-informed, healthy choices. Below are some ideas about how to help her:
Listen to and be there for her without judgment.
Offer to go with her to appointments so she doesn't feel alone.
Make sure she has thought through her options of abortion, adoption, and parenting and has accurate information about each one.
Help her gather resources and find the support she needs.
Talking to Your Friend About Abortion
If your friend has confided in you that she is choosing abortion for her pregnancy, it's important that you make sure she has all of the information about both her pregnancy as well as the abortion procedure.
Her ability to get an abortion depends on how far along and how healthy her pregnancy is. She can learn about this through an ultrasound exam, which Avenue Women's Center offers for free.
Make sure you talk with your friend about her choices and learn more about why she wants abortion over another option. Ask her how she feels and if an abortion matches up with her goals and values.
Sometimes it's also a good idea to reach out for further help, especially if you're concerned for your friend and her unexpected pregnancy. Avenue Women's Center would love to walk with you and your friend and support her through this difficult time in her life. We can provide accurate information regarding her options and limited medical services such as an ultrasound exam to assist her in her decision.  
Contact us to learn more about how we can help!
The information provided here is general in nature.  It is not a substitute for a consultation with a medical professional. Before any medical procedure, it is imperative that you discuss your personal medical history, risks, and concerns with your doctor. If you have questions during or after a procedure, your doctor should be immediately contacted. Avenue Women's Center is not an emergency center.  If you are experiencing severe symptoms, such as bleeding and/or pain, seek immediate medical attention.  Contact your physician, go to an emergency room, or call 911.