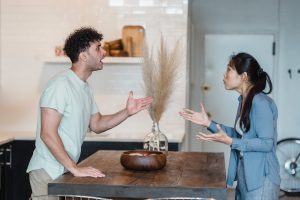 Discovering the best option for an unexpected pregnancy is often challenging, even when relationship dynamics are stable.  But maybe your partner doesn't seem committed to you. Circumstances like these can present some unique hurdles.  You're facing a significant choice with potential long-term effects, which alone can feel intimidating.  And you're doing so without a sense of assurance that the person by your side is in it for the long haul.  Know this: you have what it takes to meet this challenge with strength and resilience, no matter where your journey leads.
Perhaps you've been with your partner for a couple of weeks or a couple of decades.  You may be married, dating, or perhaps you'd define your relationship in other terms.  This pregnancy may not even be his.  There are so many possible circumstances you may be confronting, and all of them come with unique challenges that can make an unexpected pregnancy all the more painful to navigate.  But there's help available no matter the details of your story.  At Avenue Women's Center, we're all about empowering persons to understand their options and make informed pregnancy decisions.
Contact us to speak with an expert staff member and learn more!
Understanding Your Options
It's essential for any person facing an unexpected pregnancy to know her three options: abortion, adoption, and parenting.  Every one of these avenues comes with potential upsides and challenges.  Check out Avenue's "Pregnancy Options" page to explore these a bit further, and consider scheduling a free options consultation at one of our six limited medical clinics!  The primary purpose of our consultations is to educate persons on their pregnancy choices, including what it would look like to pursue each option at any stage of pregnancy.  It's important to understand the processes and learn about the risks because all your options have implications for your health.  A consultation is also an opportunity to direct your questions to a caring, knowledgeable, non-judgmental professional and receive support in a confidential setting.  It's our role to listen and present reliable information to help you choose your best way forward.
Healthy Communication is Key
If the title of this blog caught your attention, chances are, you have some reason to believe your partner may not be committed to your relationship.  Perhaps he's told you so upfront.  Or, maybe your instincts are indicating this based on his history, behavior, or offhand comments he's made.  Persons facing situations like yours often feel scared and devastated, but not always.  Sensing that your relationship may come to an end sooner or later might even be a relief.  But if any of this is impacting your pregnancy decision-making process, it's probably wise to consider having an honest and respectful conversation with your partner.  Maybe his intentions are different than you realize. If so, clearing the air could be highly beneficial for your connection with him and your pregnancy journey.  Ask him how he's feeling about the present circumstances you're facing together and the future of your relationship.  An honest conversation can bring clarity to you both, allowing you to take your next steps based on mutual understanding rather than speculation.
Embracing Your Best Pregnancy Outcome, No Matter What the Future Holds
Even if it's evident that your partner doesn't plan to continue this relationship long-term, his intentions don't have to place limitations on your pregnancy outcome.  There's practical and emotional support available for this season of pregnancy and beyond no matter what the future holds!  Perhaps you already have caring people in your life that you feel confident would stick by your side, come what may.  Avenue Women's Center exists to be part of your support network too.  We're available to help you connect with a variety of additional resources to empower you, such as medical, financial, educational, and housing resources, as well as professional referrals.  Having someone trustworthy to confide in can help you navigate your challenges with courage and lean into your best outcome.
The future is uncertain, no matter where things stand with your partner or how he's feeling about the relationship.  But rest assured, you're capable of finding your best way forward!  Rely on your values, beliefs, strengths, and supports, whether your partner seems committed or not.  Our team at Avenue is here to provide emotional support, as well as practical services (like free pregnancy tests, limited medical ultrasounds, and pregnancy consultations), to equip you for the road ahead.
Schedule an appointment at one of our six locations in Chicagoland today!  We offer virtual consultations as well!
The information provided here is general in nature.  It is not a substitute for a consultation with a medical professional. Before any medical procedure, it is imperative that you discuss your personal medical history, risks, and concerns with your doctor. If you have questions during or after a procedure, your doctor should be immediately contacted. Avenue Women's Center is not an emergency center.  If you are experiencing severe symptoms, such as bleeding and/or pain, seek immediate medical attention.  Contact your physician, go to an emergency room, or call 911.