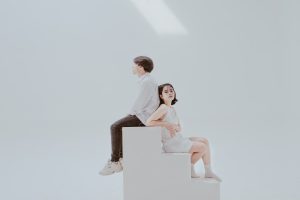 It can be difficult to cope with the often far-reaching outcomes of an unexpected pregnancy.  Because these circumstances are deeply personal, there may be a ripple effect that touches your most important relationships and your partner's.  Perhaps you and your boyfriend are currently navigating an unexpected pregnancy, and his family isn't handling this as well as you'd hoped.  Tension and conflict can arise for a number of reasons.  Maybe your partner's parents are sorting through some complex feelings toward their son. They may be experiencing shock, love, anger, pride, and disappointment.  It's certainly possible to experience all these emotions at once.  But even if they embrace your role in his life, they may not have wished for this timing.  They'll likely need time and space to process this news and accept what the future holds.
Have you had a stressful experience coping with an unexpected pregnancy alongside family members?  If your significant other's family is having a tough time, this can be awkward for you, his girlfriend.  You're an important part of your partner's life. This may be true now more than ever.  But you're probably not as closely connected with your boyfriend's family. So, how do you know what boundaries to set?  How do you move forward, hopefully in step with your loved ones and his?  Avenue Women's Center has been helping women sort through questions like these for over 40 years!  We're a first-step pregnancy clinic that offers free and confidential early pregnancy services, so you feel equipped to navigate the days ahead from an informed point of view.
Reach out and receive support from our compassionate team!  We're available to hear your story and connect you with the resources you need!
Conflict Can Present an Opportunity for Growth
It can be challenging to develop relationships and manage conflicting views with your boyfriend's family members, even under ideal circumstances.  His family's "culture" is probably unlike your family's, at least to some extent, whether or not you come from similar ethnic backgrounds.  Differences in values, beliefs, and experiences are to be expected.  That's why tension is often unavoidable, especially when the family is faced with a stressful situation.  But this friction doesn't have to hurt your relationships with your boyfriend or his family members!  The challenge of this unexpected pregnancy may even present an opportunity to build deeper and stronger bonds.
Engaging in A Genuine, Respectful Conversation
If you're navigating tension with your boyfriend's family, it may be beneficial to explore where the strain is coming from.  Are his family members' principles, priorities, beliefs, or future hopes around this unexpected pregnancy different than yours, and/or your partner's?  Does having a conversation about each person's emotions sound like a safe option?  If so, it may be an appropriate time to broach this idea with your boyfriend.  Consider inviting him to share his feelings and perspective, as he likely knows his family members on an intimate level.  He may be best equipped to offer insight and set boundaries to create an environment where everyone involved feels seen, heard, and respected.  He'll likely appreciate support from you or others, as he may feel caught between his family's wishes and his own or yours.  Perhaps you and he can initiate a respectful family conversation together.  This talk may be difficult or uncomfortable.  Resolving tension among a group takes time, honest communication, and mutual grace.  However, by demonstrating that you care about each person's point of view, and by communicating your own feelings in a kind and authentic way, you can lay the groundwork for even healthier connections with your boyfriend's family members.
Our caring and knowledgeable staff at Avenue Women's Center is here for support as you navigate the relationship challenges that may be a part of your pregnancy journey.  We're an excellent resource for women experiencing an unexpected pregnancy because we offer lab-quality pregnancy tests, limited medical ultrasounds, pregnancy consultations, and more at no cost!  We genuinely care about your health and well-being, and we exist to empower you with information and resources for the road ahead.
Schedule an appointment today at one of our six Chicagoland, Illinois locations!
The information provided here is general in nature.  It is not a substitute for a consultation with a medical professional. Before any medical procedure, it is imperative that you discuss your personal medical history, risks, and concerns with your doctor. If you have questions during or after a procedure, your doctor should be immediately contacted. Avenue Women's Center is not an emergency center.  If you are experiencing severe symptoms, such as bleeding and/or pain, seek immediate medical attention.  Contact your physician, go to an emergency room, or call 911.