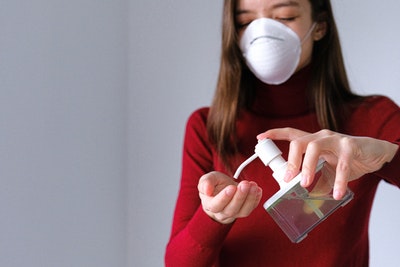 Even if you're not infected, the Coronavirus (COVID-19) has had an impact on our individual worlds. For most of us, our daily routines have been disrupted because the virus has interfered with our ability to attend school or work, and circumstances have forced us to temporarily acclimate to a new schedule. Something similar may have happened after you learned about an unexpected pregnancy, as you may have anticipated that being pregnant often leads to changes. Combined with concerns you may have about COVID-19, you may be feeling a bit overwhelmed, and this period of mandatory confinement we're experiencing can make us susceptible to loneliness. There may be a lot of fear during this time, but in order to dispel panic, it's recommended you slowly gather information and begin to process what your next steps should be from there. But where can you go for help?
It's normal to feel confused, scared, and anxious when we don't have enough information, and facing an unexpected pregnancy during the Coronavirus means you may wondering what to do next. Avenue Women's Center is here to walk beside you and listen to your concerns through a private consultation. We understand there may be feelings of discouragement, and our caring staff can speak with you about your options to relieve some of your stress when it comes to finding answers for your questions. Contact us today to speak with a pregnancy consultant who can supply you with reliable information and connect you to resources!
Feelings of Panic Because of COVID-19
COVID-19 understandably has led to legitimate concerns pertaining to the length of school and business closures, and what will happen in the long-term. Having a healthy level of anxiety about this is not necessarily negative. As we wait for more information to emerge about the virus, regardless of your pregnancy plans, it's recommended you maintain good hygiene habits, such as washing your hands and minimizing physical contact with others.
This can be an example of a form of positive anxiety, as it does not control you, and it encourages what medical experts have been telling us are good habits. But if you notice your anxiety about COVID-19 and your pregnancy is consistently preoccupying your thoughts, and disrupting your ability to sleep or eat, then you may want to consider taking a few steps.
While there are a few ways to care for yourself, please note that if you feel your emotional distress has advanced, seek additional support right away through a professional counseling resource.
Limit Your News Consumption:
The world may seem a bit noisy right now, and tuning in to the news or logging onto social media may not inspire reassuring emotions. While it can be a good thing to remain connected with others, especially during an unexpected pregnancy, this may be a time where what you need to hear is a calm, encouraging voice. It's okay to unplug yourself from the online or television space for a while. Too much news can strengthen our anxiety, so it may be a good idea to work out a schedule where you can take a break from it for a while.
Gather What Information You Can:
Try to take it easy as you learn more about your pregnancy options and occasionally listen to reports from medical experts on how to reduce your risk of contracting COVID-19. When our questions are unanswered in periods of stress, sometimes our mind can disrupt feelings of peace by persuading us to believe exaggerated untruths. It may be helpful to replace these thoughts with things that we do know are accurate by communicating with reliable resources, such as the CDC. If you have concerns about the virus, or you're in need of unexpected pregnancy support, you may want to contact a healthcare provider, a counselor, or a pregnancy consultant so you can feel confident the information you're receiving is trustworthy.
Communicate With an Encouraging Network:
Despite the reduced contact with our peers, it can still be important to have a supportive community behind you. While you may not be able to see your friends and family face-to-face as often right now, you may want to still reach out to those who can offer you comfort and uplift you. This can be done by remembering to call your peers every so often to check-in throughout the day, or by keeping in touch through email. Quarantine can exacerbate feelings of isolation and depression, and on top of maintaining relationships with your close friends or loved ones, some professional resources can provide you with a remote consultation.
Are you worried about how to cope with an unexpected pregnancy during the Coronavirus outbreak? Avenue Women's Center is here to help guide you through what may be a difficult journey, and our compassionate staff is readily available to communicate with you. We offer clients the opportunity to discuss their choices of abortion, adoption, and parenting with a confidential resource, providing you with reliable information and advice for maintaining your health. You may have a lot of questions, and we're here to provide you with answers about how to connect with resources and learn more about your options. Call, chat, email, or text us for unexpected pregnancy support at no cost!
The information provided here is general in nature.  It is not a substitute for a consultation with a medical professional. Before any medical procedure, it is imperative that you discuss your personal medical history, risks, and concerns with your doctor. If you have questions during or after a procedure, your doctor should be immediately contacted. Avenue Women's Center is not an emergency center.  If you are experiencing severe symptoms, such as bleeding and/or pain, seek immediate medical attention.  Contact your physician, go to an emergency room, or call 911.