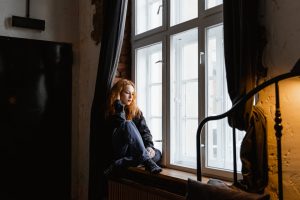 Perhaps seeing those two lines on a pregnancy test brought up memories from the past, a previous time you'd seen the same results. Maybe, for you, these two lines don't bring up positive feelings. Instead, maybe it's stress or anxiety you feel. Or perhaps you're reminded of a secret that you've kept to yourself. Does your current pregnancy remind you of a past abortion that you had? How do you move forward when what's happening now reminds you of something you've kept hidden from your past?
Are you not only facing another pregnancy but also the memories of a secret abortion from the past? It can be difficult to process our options when our present is informed by our past decisions. At Avenue Women's Center, we'd love to sit down with you and listen to your story. Receive the information and support you need in a nonjudgmental environment at one of our six Chicagoland centers. We'll equip you for the next steps in your pregnancy decision.  
Reach out today to get support!
How To Move Forward When The Past Holds On
Facing an unexpected pregnancy when it may bring up old memories or secrets can be difficult. It's possible you're having trouble deciding what you're feeling right now or making decisions to move forward. Maybe there are negative feelings related to your past abortion, or perhaps you just really don't want anybody to find out about it. These distressing circumstances can almost feel paralyzing! So, how do you move forward with this pregnancy when the memories of the past hold on?
Practical Steps
It's always possible that the weight of this secret is holding you down. Have you considered that it may be time to tell somebody? This is a difficult thing to do and will take lots of courage. You also want to make sure that whoever you tell will be accepting and supportive of you during this time. You may find it helpful to talk with an unbiased professional such as a healthcare provider, licensed counselor, or pregnancy consultant. Sometimes talking with somebody and having a perspective shift can be important toward releasing the secrets of the past and moving forward with today.
Remember, This is Now
It may be helpful to look back at your past and look at where you are now. Are there ways in which you've changed? Are you facing different circumstances now than you were in the past? With this pregnancy, you don't have to follow the same pattern that you did before. You have the freedom to make new choices, to reach out for support, and to take the time to make an informed pregnancy decision that is best for you.
You have the power to write a different story!
We'd love to be part of your new story. Wherever you're at in sorting through an abortion from the past and making a pregnancy decision in the present, we have resources and support available to you. Our caring consultants look forward to partnering with you and being a safe place for you to express yourself and make a plan for the next steps.
Schedule your appointment with a consultant today!
The information provided here is general in nature.  It is not a substitute for a consultation with a medical professional. Before any medical procedure, it is imperative that you discuss your personal medical history, risks, and concerns with your doctor. If you have questions during or after a procedure, your doctor should be immediately contacted. Avenue Women's Center is not an emergency center.  If you are experiencing severe symptoms, such as bleeding and/or pain, seek immediate medical attention.  Contact your physician, go to an emergency room, or call 911.