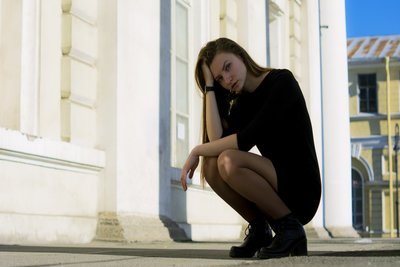 Perhaps it's due to complications from a previous pregnancy. Perhaps it's recovery from a recent surgery. Maybe you are facing serious health issues. For whatever reason, you don't feel physically ready to have a baby. If you are reading this blog, that means you may be pregnant or concerned that pregnancy is a possibility…so what do you do?
Avenue Women's Center is a women's limited medical clinic specializing in services geared towards unplanned pregnancy. If you are saying 'I'm not physically ready to have this baby" and think you might be pregnant, contact us right away for a free options consultation at one of our five DuPage County locations. Our caring client advocates are here to provide you with information and support as you make your pregnancy decision. Don't delay.
The first consideration when thinking "I'm not physically ready to have this baby" is to think about why you are feeling that way. What is the cause of not being "physically ready?" At our pregnancy centers we have met many women over the years who have had many different reasons. For some, it was a difficult previous pregnancy that caused them not to want to "put their bodies through that" again. For others, they may have just recently had a baby and feel it's too soon to be pregnant. Other women may be facing serious health challenges outside of the pregnancy. We have met with women who are battling disease and cancer. All of these and more can be contributing factors for not feeling "physically ready" to have a child.
So, how do you take all of this into consideration when making a pregnancy decision?
First of all, it's important to know exactly what you are dealing with. Are you facing a medical issue? In that case, seek an appropriate diagnosis & subsequent advice from a trusted medical professional. Then, get a second opinion. Even though you may completely trust your doctor, it's extremely helpful to get the perspective of another expert. For example, at CareNet DuPage we have seen several women over the years who were told they could never get pregnant by their doctor. Then they had a positive pregnancy test at our office. So, where any long-term or health-related implications are concerned, it pays to receive confirmation.
Speaking of confirmation, the next consideration is to find out whether or not you are truly pregnant. Have you confirmed your pregnancy results? Have you had an ultrasound to check on the viability of the pregnancy? Have you received information on all of your pregnancy options? All of this information is important to have (and can be provided by Avenue Women's Center free of charge if you live in the Chicagoland area).
Next, think about all the factors involved. Are you concerns purely physical or are their fears, anxieties, and stressors also making you thinking you can't have a baby? Often there are many different components at play regarding pregnancy. Physical, emotional, relational, and spiritual aspects may all be involved. Take some time to think about what it influencing your decision.
Not feeling physically ready to have a baby may also mean just not feeling like now is the right time. If this is you and you are considering your pregnancy options, contact Avenue Women's Center today. Our caring client advocates are here to provide information and support as you navigate this process. Call, chat, email or text for an appointment at one of our five DuPage County locations: Elmhurst, Glen Ellyn / Lombard, Naperville, West Chicago, and Wood Dale, Illinois. You don't have to navigate this alone.
The information provided here is general in nature.  It is not a substitute for a consultation with a medical professional. Before any medical procedure, it is imperative that you discuss your personal medical history, risks, and concerns with your doctor. If you have questions during or after a procedure, your doctor should be immediately contacted. Avenue Women's Center is not an emergency center.  If you are experiencing severe symptoms, such as bleeding and/or pain, seek immediate medical attention.  Contact your physician, go to an emergency room, or call 911.