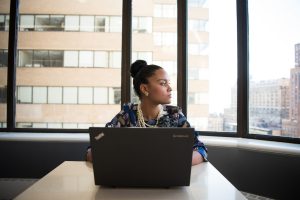 If you're experiencing an unexpected pregnancy, you essentially have three pregnancy options to choose from: abortion, adoption, and parenting.  However, the conversation doesn't end there!  Under the umbrella of each pregnancy option, there are more decisions to make and more details to plan.  And every pathway comes with its own set of challenges and benefits.  To make matters more confusing, many women feel overwhelmed by other peoples' opinions about which pregnancy choice is best.
Do you feel like you're drowning in an ocean of opinions?  Our expert staff at Avenue Women's Center sees you as the unique person that you are.  We're here to walk this road alongside you, no matter which pregnancy option you choose.  We'd love to hear your story and offer support.
Our first-step pregnancy services are free and confidential to everyone.  Learn more about our services!
Stumbling Beneath the Weight of Everyone Else's Opinion
In this day and age, pregnancy options are the focus of much debate and division.  You've probably heard a lot of strong views expressed through public and social media in recent weeks.  Not to mention, your partner and family members likely have concerns and desires of their own related to your pregnancy.  It can be hard to hear yourself think with so many voices ringing in your ears and so much pressure upon your shoulders!
Tuning into Your Own Heart and Mind
Do your loved ones' opinions mean a lot to you?  If so, that's understandable!  They've stood by your side through thick and thin, and may be an important source of support as you navigate this pregnancy.  The thoughts and feelings of people beyond your circle can be surprisingly influential too.  We humans have a natural need to feel supported by those closest to us and our larger communities.  However, exploring how you feel about this pregnancy and how you would like to move forward is going to be a very important part of your journey.  It may help to spend some time in quiet self-reflection.  Consider your values, beliefs, and hopes.  How might these inform your next steps?  None of the people around you are going to be impacted by your pregnancy decision the way you are, so take your time and listen to your instincts.  It's possible to hear (and maybe even respect) other opinions, while focusing on your own heart and mind.
Accessing Services to Lighten Your Load
First-step pregnancy services can help you gain insight into your best pregnancy decision while managing your important relationships.  Avenue Women's Center offers early pregnancy services like medical-grade pregnancy tests and limited medical ultrasounds at no cost, because every woman should have access to reliable information about her pregnancy.  An ultrasound can date your pregnancy, detect concerns like ectopic pregnancy (a pregnancy located outside the uterus), and assess the possibility of miscarriage.  This valuable information might play a role in your pregnancy decision while protecting your health!  A compassionate pregnancy consultant is also available to review all your pregnancy options in a comfortable, no-pressure environment.  We'd love to answer your questions and help you connect with any empowering resources you need to put your best foot forward.  You're welcome to bring a loved one to your appointment.  An Avenue team member can even help mediate conversations with your loved ones if you'd like.
Since 1981, Avenue Women's Center has been serving women in DuPage County, Illinois and beyond!  It's our mission to provide you with the education, support, and resources you need to make an informed and confident decision about this pregnancy. 
Schedule a phone consultation or appointment at one of our six limited medical clinics!
The information provided here is general in nature.  It is not a substitute for a consultation with a medical professional. Before any medical procedure, it is imperative that you discuss your personal medical history, risks, and concerns with your doctor. If you have questions during or after a procedure, your doctor should be immediately contacted. Avenue Women's Center is not an emergency center.  If you are experiencing severe symptoms, such as bleeding and/or pain, seek immediate medical attention.  Contact your physician, go to an emergency room, or call 911.