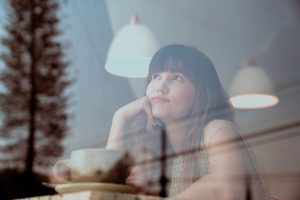 An unexpected pregnancy involves complex emotions under almost any circumstances.  If you became pregnant by someone you know, you may be concerned about things like your relationship with your partner, and his feelings related to the pregnancy.  But what if this person was a stranger?  Maybe you met him at a party or on an app, and pregnancy just wasn't on your mind at the time.  Perhaps you're questioning if the sex was even consensual.  Those situations involve unique (and very important) considerations, along with the possibility of emotional trauma.  Chances are, you have a lot to process.  Know that support is within reach!
No matter how you arrived at this point, Avenue Women's Center can equip you to meet this challenge of an unexpected pregnancy.  We provide free, confidential early pregnancy services because we care deeply about women's health and wellness.  It's our mission to empower you with information about your pregnancy and available resources.
Call, text, email, or chat to schedule an appointment in the Chicagoland area today!  Walk-ins are welcome!
First Things First
If you think you may be a victim of sexual assault, it's important to seek medical attention right away and consider reporting the incident to local authorities.  Reach out to the National Sexual Assault Hotline at 1-800-656-4673. Non-consensual sex can be very difficult to talk about.  But it's critical to protect your own safety, have your physical needs met, and promptly receive support.
If you're concerned about pregnancy after consensual sex with a stranger, taking a pregnancy test is your next best step.  Many women begin with a urine-based test at home.  Your doctor may offer a more reliable testing option, like a blood-based pregnancy test.  Avenue Women's Center provides free medical-grade pregnancy tests that are highly accurate.
Once You Know for Sure
Perhaps you've already confirmed that you're pregnant.  If so, you probably have a lot of questions on your mind.  You may be wondering whether or not to share this news with your sexual partner, and how to contact him (if it's safe to do so).  Maybe you're concerned about the possibility of having a sexually transmitted disease (STD).  And on top of all this, you're likely questioning which pregnancy decision is best for you.  Are you feeling overwhelmed?  It's no wonder!  Our compassionate staff at Avenue understands what you're facing.  We're committed to providing a safe, welcoming space where you can learn more about your pregnancy and process your next steps.  An ultrasound can provide information about how far along you are, which pregnancy options are available, and the possibility of miscarriage or ectopic pregnancy (a pregnancy located outside the uterus).  We offer free limited medical ultrasounds here at Avenue!
Practical and Emotional Support
Seeking support is probably going to be an important step in your pregnancy journey, especially if your circumstances are complex.  Consider sharing your news with a trustworthy friend or family member, a mental health counselor, or a faith leader.  Avenue's pregnancy consultants are also available to offer practical and emotional support in a judgment-free zone.  No woman should have to face an unexpected pregnancy without the services, tools, and community she needs to thrive.  Are you in need of insurance coverage?  Housing or financial assistance?  Services from a mental health professional?  It's our role to listen and help you connect with resources like these!
Many women experiencing an unexpected pregnancy find it helpful to learn about their options and process their next steps in partnership with a trusted ally.  Avenue can be a key part of your support system through this challenging season of your life.  We've been serving women and men in circumstances similar to yours for over forty years!
Schedule an appointment and discover how to move forward with clarity and confidence.
The information provided here is general in nature.  It is not a substitute for a consultation with a medical professional. Before any medical procedure, it is imperative that you discuss your personal medical history, risks, and concerns with your doctor. If you have questions during or after a procedure, your doctor should be immediately contacted. Avenue Women's Center is not an emergency center.  If you are experiencing severe symptoms, such as bleeding and/or pain, seek immediate medical attention.  Contact your physician, go to an emergency room, or call 911.