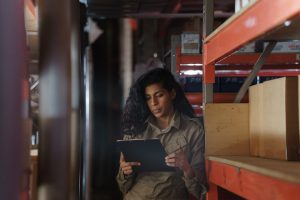 To have anxiety is to be human.  However, many of us struggle with anxiety on an especially challenging scale.  According to The Diagnostic and Statistical Manual of Mental Disorders (5th ed.; DSM–5), "Anxiety disorders include disorders that share features of excessive fear and anxiety and related behavioral disturbances.  Fear is the emotional response to real or perceived imminent threat, whereas anxiety is anticipation of future threat."  According to the CDC (Centers for Disease Control and Prevention), during August 19-31, 2020, through December 9-21, 2020, percentages of adults who reported symptoms of an anxiety disorder increased from 31.4% to 36.9%.  Although the global COVID-19 pandemic has seemingly played a significant role in this shift, the statistics show that symptoms of anxiety are widespread in today's society.  If you've been diagnosed with an anxiety disorder and now find yourself unexpectedly pregnant, you may be stumbling beneath the weight of overwhelming stress.  Thankfully, you don't have to navigate this on your own.
An unexpected pregnancy can feel especially stressful for those already coping with an anxiety disorder or another mental health challenge.  Our expert team at Avenue Women's Center is here to offer accurate information about the options and resources available to you.  We are here to take this journey with you and can provide referrals for mental health and practical services that meet your needs. 
Check us out!  Our team members are available to serve you at one of our six locations in DuPage County, Illinois.
First an Anxiety Disorder Diagnosis, and Now I'm Pregnant Too!?
Whether you're familiar with your symptoms or are trying to wrap your mind around a recent diagnosis, coming to terms with your particular set of challenges is a journey. This journey may include moments of insight and self-discovery, but may also come with discouragement or moments of overwhelming anxiety.  Perhaps you're struggling with Social Anxiety Disorder, Panic Disorder, Generalized Anxiety Disorder, another anxiety disorder, or general anxiety.  Whichever your situation, it is highly encouraged that you check in with your health care provider regularly to discuss recommended treatment.  You are a beautifully unique person with your own strengths and challenges.  Counseling and/or psychiatric care may be right for you, especially as other stressors come your way.  Coping strategies like self-care, relaxation, and support from others may help you in managing your anxiety disorder, as well as the anxiety associated with your unexpected pregnancy.
If your anxiety leads you to thoughts of harming yourself or others, contact 911, a licensed therapist, or mental health counselor right away.
Taking the Time to Cultivate Calm
You may sometimes feel a sense of urgency during times of high anxiety.  However, taking the time to gather information is critical for any woman experiencing an unexpected pregnancy.  Consulting a medical professional to receive information about the pregnancy and gathering reliable options information can help in making a decision from an informed perspective.  If you are panicking after learning of an unexpected pregnancy, take a few deep breaths (both physically and metaphorically).  Allow your body and mind to steady themselves before making important decisions.  Try utilizing a coping strategy for a few minutes or hours to return to a calmer, more focused mental space.  Our emotions (and the bodily sensations that come with them) have a way of balancing out naturally with time, so take heart.  With a bit of patience, you may feel calmer and better equipped to research your pregnancy options and resources.  It is much easier to process information and gain insight when the alarm bells ringing in your head have been dimmed down.  Learning more about your mental health from a reliable source and within a calmer mental space may also help you to develop self-awareness and even peace of mind.
Embracing Support
Shame.  It's commonly felt among women diagnosed with an anxiety disorder, and sometimes among women who are experiencing an unexpected pregnancy.  Whether imposed by another person or self-inflicted, shame can feel humiliating.  Building and leaning upon a healthy support system can help you to neutralize feelings of shame that may be harming your self-worth or preventing you from taking steps forward.  When you spend quality time with people who care about you, their love and support can be a beautiful reminder of your value.  Others who are thoughtful and trustworthy may also help you gain a new perspective.
If you're not receiving the support that you need, or if you're simply looking to build upon the support that you have, our pregnancy consultants at Avenue Women's Center can offer a listening ear and connect you with people who can help.  We understand that your pregnancy needs are unique, so we strive to create an environment where you feel heard, respected, and empowered. 
We encourage you to schedule an appointment at one of our centers in Darien, Elmhurst, Glen Ellyn / Lombard, Naperville, West Chicago, or Wood Dale, Illinois.
_______________
References:
 American Psychiatric Association.  (2013).  Anxiety Disorders.  In Diagnostic and Statistical Manual of Mental Disorders (5th ed.).
Centers for Disease Control and Prevention.  (2021, April).  Symptoms of Anxiety or Depressive Disorder and Use of Mental Health Care Among Adults During the COVID-19 Pandemic — United States, August 2020–February 2021.  Retrieved from: https://www.cdc.gov/mmwr/volumes/70/wr/mm7013e2.htm
The information provided here is general in nature.  It is not a substitute for a consultation with a medical professional. Before any medical procedure, it is imperative that you discuss your personal medical history, risks, and concerns with your doctor. If you have questions during or after a procedure, your doctor should be immediately contacted. Avenue Women's Center is not an emergency center.  If you are experiencing severe symptoms, such as bleeding and/or pain, seek immediate medical attention.  Contact your physician, go to an emergency room, or call 911.