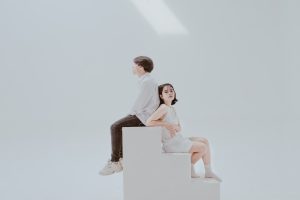 An unexpected pregnancy often comes with a variety of complex, puzzling emotions. Maybe you just found out you're pregnant and it wasn't a part of your plan.  You're feeling anxious or frustrated as a result.  But perhaps a part of you is also wondering if this could be a blessing in disguise.  Maybe a pregnancy could strengthen your bonds with your partner and cause him to remain committed to you.  If this describes your thought process, you may be dealing with lots of confusion over which pregnancy option to pursue.
Relationships can be complicated, and experiencing a pregnancy with your partner may add another layer of complexity.  Avenue Women's Center exists to walk beside you as you navigate the twists and turns of the road ahead.  When you visit one of our first-step pregnancy centers, you'll have an opportunity to process your circumstances with a caring pregnancy consultant and receive free, confidential early pregnancy services.
Learn more about Avenue and how we can help!
It's Healthy to Acknowledge Your Worries
If you believe this pregnancy could factor into your partner's decision to stay, you might be sorting through some underlying concerns around his ongoing commitment to the relationship.  Perhaps you're hoping for a long-term connection, but you're unsure of his intentions, or you're nervous that he isn't as devoted to you as you are to him.  This is truly a difficult place to be!  Pregnancy has the potential to reinforce your ties to one another.  However, this pregnancy and your pregnancy decision (whether for abortion, adoption, or parenting) could present new challenges as well.  It may be beneficial to give all of this some careful consideration.
Explore the Relationship
It may be helpful and appropriate to explore your relationship with your partner a little further.  Consider his values and personality traits.  Are they compatible with yours?  If you're unsure about his level of commitment, and you feel safe talking with him, it might be time for a genuine conversation about the relationship.  This may feel a little awkward at first, especially if you and he don't normally interact this way.  However, so long as both of you are communicating your thoughts and feelings with honesty and respect, you'll likely gain some valuable insight.  Perhaps this clarity will allow you to consider your next steps from a more discerning and confident perspective.  If you don't feel comfortable having a sincere talk with your partner, or if he repeatedly declines to have this conversation, these might be warning signs.  Willingness to engage in authentic and thoughtful communication is important to any relationship.
Seek Supporters- We All Need Them!
When it comes to navigating a complex relationship and/or an unexpected pregnancy, receiving support from others may be a vital part of your journey.  Consider processing your situation alongside a trustworthy and compassionate friend, family member, or professional (like a faith leader, medical provider, or mental health counselor).  Sharing your story may present an opportunity to assess your circumstances from a more balanced point of view, hear feedback from an impartial third party, and receive some much-needed encouragement.  Our expert staff at Avenue Women's Center would love to be a part of your support system as well.  We're committed to meeting you where you are, wherever you are- no pressure, no judgment.
Avenue's no-cost pregnancy services include lab-quality pregnancy tests, limited medical ultrasounds, options consultations, and community resources.  Our goal is to equip you with reliable knowledge about your own pregnancy and all the avenues you have to choose from, so you can step into a pregnancy decision feeling fully informed.  We're also available to help you process your relationship with your partner and to mediate a conversation if you believe this would be helpful.  If you're interested in seeing a mental health professional, we are happy to provide a referral!
Schedule an appointment today and receive the practical services and caring support that you need to make confident next steps. 
The information provided here is general in nature.  It is not a substitute for a consultation with a medical professional. Before any medical procedure, it is imperative that you discuss your personal medical history, risks, and concerns with your doctor. If you have questions during or after a procedure, your doctor should be immediately contacted. Avenue Women's Center is not an emergency center.  If you are experiencing severe symptoms, such as bleeding and/or pain, seek immediate medical attention.  Contact your physician, go to an emergency room, or call 911.