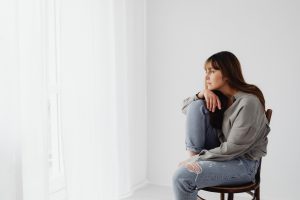 Do you think you may be unexpectedly pregnant by a family member's partner?  Maybe your mom's boyfriend or your brother-in-law, for example?  If so, you're undoubtedly facing some deeply complex circumstances that could trigger significant relationship challenges.  Your heart may need a lot of healing, and so may your family members'.  This could be a long and difficult road.  But it isn't one you have to navigate on your own.
Our compassionate, expert staff at Avenue Women's Center is here to be your advocate and ally.  We offer confidential early pregnancy services at no cost, like lab-quality pregnancy tests and options consultations.  We're devoted to helping persons facing an unexpected pregnancy access the additional resources and support they need to move forward in their pregnancy journey and in life.  At Avenue, your health and safety are our very highest priorities!
Schedule an appointment today!  Our limited medical clinics are located in Darien, Elmhurst, Glen Ellyn / Lombard, Naperville, West Chicago, and Wood Dale, Illinois.
*If you've had sex with a family member's partner, your situation may involve legal considerations.  This depends on whether or not the sex was consensual.  The definition of "consent" varies somewhat by state, according to RAINN (Rape, Abuse, and Incest National Network).  According to the Northwestern University Department of Safety & Security, "Under Illinois law, a person must be at least 17 years of age in order to give consent; it is illegal in Illinois for a person 18 or older to commit sexual acts on a person under the age of 18 if they have a position of authority or trust over the victim."  This webpage also states, "Consent is not present when an individual is incapacitated, voluntarily or involuntarily, due to age (see above) or physical condition (sleep, lack of consciousness, alcohol, drugs), or disability that impairs the individual's ability to provide consent."  If you believe an act of nonconsensual sex was committed against you based on any of these factors, according to your state's laws, contact local authorities immediately.
If Sex with Your Family Member's Partner was Consensual…
You may be wrestling with regret over this choice and worried about the potential impacts on family relationships.  You're facing some challenging and probably very painful circumstances.  Being honest about what's occurred may be the best (or only) way to begin a healing process with family members if that's something you wish to pursue.  Keep in mind, none of your pregnancy options (abortion, adoption, or parenting) will erase the past.  But you do have the strength and autonomy to make decisions that are right for you and your family from here on out.  If you feel inclined to continue the pregnancy, but think parenting would be too difficult for you and your family under these circumstances, adoption may be your most positive path forward.  Birth parents have a lot of control over the forming of an adoption plan and choosing an adoptive family.
If Sex with Your Family Member's Partner was Non-Consensual…
Know that this isn't your fault.  Non-consensual sexual behavior isn't okay under any circumstances.  Your health and safety need to be the number-one focus right now.  As mentioned earlier, it's important to contact local authorities if you believe an act of non-consensual sex has been committed against you.  This may include forced sex (like rape), or sex that you couldn't legally consent to (because you were incapacitated at the time or underage).  Check your state's laws.  Sex with a minor is illegal, even if it seemed like both people agreed to it (an underage person cannot agree from a legal standpoint).  You can also speak with someone like a school counselor or contact RAINN.  This organization operates a hotline and aids survivors. Telling someone about non-consensual sexual behavior can feel scary.  But getting help is absolutely critical to your safety.  You may also need prompt medical attention if sexual assault or pregnancy has occurred.
Securing your safety and getting your immediate needs met come first.  When you're ready to direct your attention to pregnancy options, consider exploring the processes, risks, and potential outcomes of all your possible paths.  A limited medical center like Avenue can provide free early pregnancy services, so you have all the information you need about this pregnancy to move forward feeling informed.  We're available to walk you through all your pregnancy options and information on additional resources in your area.
Contact us to learn more!  Avenue Women's Center is a safe space to receive the information and support you need to take your next steps.
_______________
References:
The information provided here is general in nature.  It is not a substitute for a consultation with a medical professional. Before any medical procedure, it is imperative that you discuss your personal medical history, risks, and concerns with your doctor. If you have questions during or after a procedure, your doctor should be immediately contacted. Avenue Women's Center is not an emergency center.  If you are experiencing severe symptoms, such as bleeding and/or pain, seek immediate medical attention.  Contact your physician, go to an emergency room, or call 911.