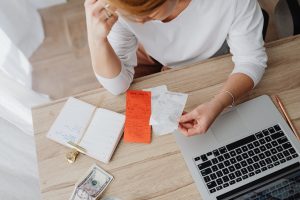 Most women would agree that there's never a "good time" for an unexpected pregnancy.  However, this news can be particularly difficult to cope with when you're already facing another one of life's challenges.  A loss of employment can lead to a variety of emotions: anger, disappointment, sadness, anxiety, embarrassment, and maybe even gratitude.  An unexpected pregnancy will likely trigger difficult and complex feelings as well.  Perhaps you're wrestling with these major changes all at once and feeling completely overwhelmed!
Any season of transition can be stressful, even under the best of circumstances.  Avenue Women's Center is here to offer education, resources, and support for women in challenging situations like yours.  We've been providing early pregnancy services to empower women in Chicagoland, Illinois and beyond since 1981!
Check out our services!  We offer medical-grade pregnancy tests, limited medical ultrasounds, options consultations, and more at no cost!
Taking Your Next Steps with Confidence
Shock, fear, and frustration are normal responses to an unexpected pregnancy and/or loss of employment.  You're in good company!  Avenue Women's Center exists because life can get complicated and unpredictable, and we all need support when it does.  Our goal is to equip you with reliable information in the early days of your pregnancy so you can take your next steps with clarity.  If you're unsure where to begin, confirming that you're pregnant is the best way to move forward.  Many women start with an at-home pregnancy test, but a medical provider may offer a blood-based or urine-based test with more precise results.  Avenue Women's Center provides free, medical-grade urine-based pregnancy tests that are 99.5% accurate just 10 days after conception.  Whether your result is negative or positive, you'll have an opportunity to speak with a compassionate pregnancy consultant who can present information on all your options and resources.  Many women find it helpful to process their unique situations and feelings during a confidential consultation.
Accessing Resources to Help Your Succeed
Both pregnancy and job loss can have implications on many areas of life, including finances.  Sadly, some women may even feel as though their pregnancy options are limited by their income.  At Avenue, we believe that resource linkage plays an important role in empowering women to make pregnancy decisions with confidence.  You may be eligible for the following and more.  We can help connect you with supportive services like these in your community!
Access to health care (including prenatal care) regardless of insurance status
Financial services
Housing resources
Access to clothing and food assistance
Support groups
Professional counseling
Post-abortion recovery
Childbirth and parenting classes
Parenting furniture and supplies
It's hard to persevere under different, challenging circumstances.  But it is possible to step into a brighter future and make a pregnancy decision that is best for you, no matter what you're facing.
Avenue Women's Center wants to walk alongside you on your pregnancy journey whether you're leaning toward abortion, adoption, or parenting.  Our knowledgeable, non-judgmental team members are here to empower you with information and support, so you don't have to feel as though life is backing you into a corner.
Schedule an appointment today at one of our six Chicagoland, Illinois centers!  Walk-ins are welcome!
The information provided here is general in nature.  It is not a substitute for a consultation with a medical professional. Before any medical procedure, it is imperative that you discuss your personal medical history, risks, and concerns with your doctor. If you have questions during or after a procedure, your doctor should be immediately contacted. Avenue Women's Center is not an emergency center.  If you are experiencing severe symptoms, such as bleeding and/or pain, seek immediate medical attention.  Contact your physician, go to an emergency room, or call 911.