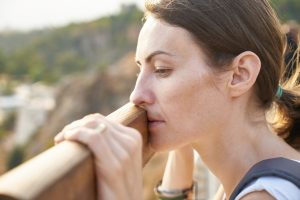 Have you recently discovered that you're pregnant while going through a divorce?  Even when pregnancy isn't a factor, separating from a spouse can be a deeply complicated and emotionally exhausting process.  Every divorce experience is unique.  Perhaps you're devastated that your marriage is coming to an end, or maybe the decision to part ways was mutual.  You may (or may not) believe that divorce is the best outcome for your health and future.  In any case, you're experiencing a significant loss.  And this pregnancy could further complicate an already complex situation.  Where can you go to receive reliable information and caring support through this challenging life season?
Since 1981, Avenue Women's Center has come alongside many women facing circumstances similar to yours.  We're here to lighten your load by providing free and confidential first-step pregnancy services, such as lab-quality pregnancy tests and limited medical ultrasounds in the Chicagoland area. 
Call, text, chat, or email to speak with a compassionate team member and learn how we may be able to help!
Taking the Time to Explore Your Next Best Steps
Whether you're pregnant by your soon-to-be-ex or another man, chances are, this pregnancy wasn't a part of your plan.  Many women feel pressure to make a quick pregnancy decision when faced with overwhelming circumstances.  Do you find yourself leaning in this direction?  Perhaps this pregnancy feels like one of many obstacles to your best outcome.  You'd like to "un-complicate" your situation and resolve your problems as quickly as possible.  However, taking the time you need to make a confident choice is key.  Prepare yourself for this important decision by learning about all your pregnancy options while allowing heightened emotions to settle.  Your divorce may bring with it feelings of grief and loss.  While it may be impossible to resolve your feelings within the time you have to make a pregnancy decision, it's important to take your next steps from a calm mental space.
How Can a First-Step Pregnancy Service Help?
At Avenue Women's Center, it's our mission to create a supportive foundation for women processing through difficult situations and pregnancy decisions.  Once your pregnancy is confirmed, it can be helpful to understand the ins and outs of your three options (abortion, adoption, and parenting).  An Avenue pregnancy consultant can offer accurate information on each possible avenue, along with caring support.  Practical, no-cost services like a limited medical ultrasound can assess how far along you are and detect possible pregnancy risks.  We're here for you no matter which pregnancy decision you make, but we'd love to help you take your next steps from an informed perspective.
With so much to consider, your support system is likely going to play an important role in the days and weeks ahead.  Avenue Women's Center is here to help you cope!  We've created a safe, welcoming space in which to process your next steps, because no woman should have to go through this alone.
Schedule an appointment today at one of our six Chicagoland, Illinois limited medical clinics!
The information provided here is general in nature.  It is not a substitute for a consultation with a medical professional. Before any medical procedure, it is imperative that you discuss your personal medical history, risks, and concerns with your doctor. If you have questions during or after a procedure, your doctor should be immediately contacted. Avenue Women's Center is not an emergency center.  If you are experiencing severe symptoms, such as bleeding and/or pain, seek immediate medical attention.  Contact your physician, go to an emergency room, or call 911.