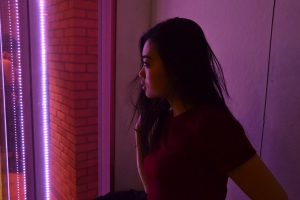 If you've recently learned that you're pregnant, and this wasn't a part of the plan, your first instinct might be to problem-solve as quickly as possible.  Maybe you've scheduled an abortion just a few days after receiving a positive pregnancy result.  If this describes your situation, the news of your pregnancy probably came as a painful shock.  You may be feeling overwhelmed, panicked, or alone.  You might also feel numb, functioning on "autopilot" as you attempt to manage these difficult circumstances.  Perhaps you're certain that abortion is the best or only way forward.
Our expert staff at Avenue Women's Center is committed to meeting you where you are, wherever you are.  We are a pro-women organization, offering first-step services in a compassionate setting for women and couples facing an unexpected pregnancy.  Our services include medical-grade pregnancy tests, limited medical ultrasounds, options information, referrals, post-abortion support, and more.
Learn more about our services!  They're free and confidential for every woman who walks through our doors. 
Your First Best Steps
Many women experience a sense of urgency when they first discover an unexpected pregnancy.  It can feel deeply unsettling when you realize that your life may be headed in a totally different direction than you'd anticipated.  You may want to go back to the way things were and carry on with the life you had planned.  Perhaps you've successfully avoided difficulty in the past by staying one step ahead.  However, chances are that this unexpected pregnancy is going to affect you no matter which pregnancy decision you move forward with.  That's why it can be so beneficial to understand each of your options, learn about the resources available, and seek support before making a permanent decision.  This will likely require some time, thought, and a little research, but a pregnancy consultant or another trusted supporter can help you access needed information and process the next best steps that are right for you.
More Likely than Not, You Still Have Time
You have full freedom, autonomy, and responsibility over your pregnancy decision.  Whether you opt for abortion, adoption, or parenting, the choice is an important one that involves your own health.  So why not take the time to evaluate the pros and cons of every possible avenue?  Many women are afraid of missing their window of opportunity to end the pregnancy via the abortion pill.  However, according to the U.S. Food and Drug Administration (FDA), "Mifepristone is approved, in a regimen with misoprostol, to end a pregnancy through 70 days gestation (70 days or less since the first day of a woman's last menstrual period)."  If you choose to move forward with an abortion, it is highly suggested that you talk with your doctor about which abortion method will be best for you.
Free, Confidential, Caring Help is Available
So, if you are an Illinois resident, you still have time to explore all your options.  Waiting to understand and process these options will most likely not impact your ability to access an abortion.  However, our compassionate team members at Avenue understand your need to address this unexpected pregnancy right away.  We offer medical grade pregnancy tests to confirm your pregnancy, which is always an excellent first step.  If your result is positive, we can also provide a limited medical ultrasound to assess the health of your pregnancy.  These services are important to obtain before moving forward with an abortion.  When you visit one of our locations, you'll also have an opportunity to learn more about your options (including abortion options) and process your pregnancy journey with one of our expert team members.  Utilize the time you have to gather the information you need to feel confident before moving forward.
Avenue Women's Center exists to give you practical services and caring support.  We believe these two factors can equip you to journey on with greater assurance, avoiding the regret that can sometimes follow a quick pregnancy decision.  We can often schedule quickly or same-day, and walk-ins are welcome!
Schedule an appointment at one of our six locations in Chicagoland, Illinois today!
_______________
References:
The information provided here is general in nature.  It is not a substitute for a consultation with a medical professional. Before any medical procedure, it is imperative that you discuss your personal medical history, risks, and concerns with your doctor. If you have questions during or after a procedure, your doctor should be immediately contacted. Avenue Women's Center is not an emergency center.  If you are experiencing severe symptoms, such as bleeding and/or pain, seek immediate medical attention.  Contact your physician, go to an emergency room, or call 911.