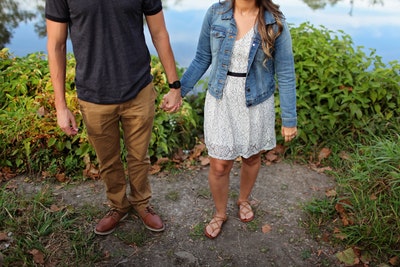 Are you considering dating someone more "mature" in age? Are you currently in a "May-December relationship?" There are both pros and cons to dating someone several years older. We'll hash out a few in our blog today.
Avenue Women's Center is a limited women's medical clinic serving the Chicagoland area. For over 36 years we have provided services geared towards women facing unplanned pregnancy. From any relationship scenario you can possibly imagine, we have provided services, information and support. Contact us today for a free consultation.
I grew up in a home where my dad was eight years older than my mom. Then, a few years ago, I turned around and married a man that was eight years older than me. I've seen the pros and cons of older men play out in both my childhood as well as my adult relationships. So, what are the benefits and drawbacks of dating an older man?
**Note: All of these pros and cons shared below are written with the assumption that both parties are adults. If you are a minor and considering dating an older man, you must adhere to the laws and regulations of your state.
The perks of dating an older man:
He is generally more well-established and stable. Depending on what stage of life you are in while dating, falling for an older man can mean more stability for your relationship. He may have been in his career for a while, own a home, or be more financially secure. He may be thinking ahead in life and planning for the future.
He has more life experience. An older guy has done more in life, meaning that he has had opportunities to learn and grow from those situations. At times, this may mean he has a deeper level of maturity.
He has had more relationship experience. He may have already had a serious relationship or two and learned from that experience. Hopefully this means he knows how to be with someone and navigate a relationship well.
The downsides of dating an older man:
Because of his relationship experience, he may come with baggage…or a family: Older men may have already started a family or have gone through a tough break-up or divorce. You have to decide if you'd like to deal with some of the baggage that comes with those scenarios.
You don't have the same upbringing or cultural context: This could be either positive or negative, but when it comes to shared experiences, you will have different backgrounds. Things that impacted your life growing up will differ. You may have different tastes in music, movies, and pop culture.
He may not have as much energy as you or be as willing to try new experiences: Depending on the age difference, he really just may not have as much stamina. He may be set in his routines or choose to do things as he prefers.
No person is the same and each pro and con listed above is relative to the individual. I encourage you to take a look at your own situation and see if this person is a good fit for you. Relationships take time, effort, and a lot of communication—regardless of the age difference. More important than age is the consideration of personality, values, and contribution to a relationship. These factors can make a huge difference in a relationship, no matter a person's age.
If you are dating an older man and concerned you might be pregnant, Avenue Women's Center is here to help. We provide services such as medical grade pregnancy tests and private pregnancy consultations to assist you through the next steps. Contact us today to schedule an appointment with one of our caring client advocates at one of our five DuPage County locations: Elmhurst, Glen Ellyn / Lombard, Naperville, West Chicago, and Wood Dale, Illinois. We look forward to hearing from you.
The information provided here is general in nature.  It is not a substitute for a consultation with a medical professional. Before any medical procedure, it is imperative that you discuss your personal medical history, risks, and concerns with your doctor. If you have questions during or after a procedure, your doctor should be immediately contacted. Avenue Women's Center is not an emergency center.  If you are experiencing severe symptoms, such as bleeding and/or pain, seek immediate medical attention.  Contact your physician, go to an emergency room, or call 911.