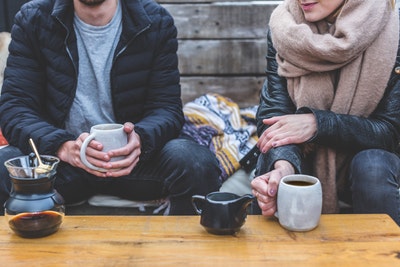 One of the first concerns after seeing a positive pregnancy test might be, "How do I tell him I'm pregnant?" or "Should I even tell him!?"Your boyfriend. Your husband. The father of the baby. You fill in the blank. Breaking the news to a significant other can feel scary and vulnerable. Often times we worry how they will respond, or what they might say. Some women decide from the moment the test turns positive that they won't be sharing the news with him. In this article we'll walk through some of the reasons why.
In the midst of asking, "how do I tell him I'm pregnant?," you can always share your news with the caring staff at Avenue Women's Center. We have been providing confidential services to women facing unplanned pregnancy for over 35 years. Our expert client advocates offer nonjudgmental support and necessary information to help you through the decision-making process. Contact us to schedule your free appointment today.
"Should I tell him I'm pregnant?"
Here are a few reasons why a woman may choose not to share the news:
She and the father of the baby are no longer together.
She worries about his response (physical abuse, emotional abuse, anger, etc.).
She already has decided what she wants to do with the pregnancy and doesn't want his opinion or thoughts.
It was a one-night-stand.
They weren't planning on having any more children, and she really doesn't want any more.
She's not sure if she wants to continue the relationship with the father of the baby.
It's perfectly understandable that it can be difficult to share the news of an unplanned pregnancy. If you are struggling with how to tell the father of the baby, here are some tips.
"How do I tell him I'm pregnant?":
If it's a boyfriend or husband – plan for an uninterrupted time for just the two of you. Grab some dinner, take a walk, and leave some time to talk about the news, and what you're thinking and feeling.
If you are fearful for your safety –call 911 immediately if you sense that you are in danger. You don't need to share with him at the risk of your own safety. Talk with a close friend or family member instead. Try and make a game plan for what you are thinking, feeling and what information you would like to get about your options.
If it's someone you don't know that well, think about which form of communication might work the best. If it's not feasible to meet in person, is it a letter or phone call? Let them know what you found out, how you're feeling and what you plan to do next.
If it's with a guy that you aren't sure you want to be with, let him know what's going on but also express your honest thoughts on your relationship. Hear his point of view, and share with him what you're thinking. He might end up being a good support for you in your decision making process, or he might confirm the unsure feelings you are having about your relationship.
So, "Should you tell him?" The decision is always yours. Assessing your situation and giving yourself some time to let the news sink in for you first can always be a good initial step. Feel free to give yourself some time after finding out about an unplanned pregnancy so you can have a clearer mind, and be ready to have a rational, adult conversation.
If you're wondering, "how do I tell him I'm pregnant?," let Avenue Women's Center be your next step. We offer you the chance to sit down with a client advocate, and talk through how you're feeling, what you're thinking and the options you have. We provide a safe and confidential environment to talk about your unique needs. Avenue Women's Center understands the importance and delicateness of your situation, and wants you to know we are here for you! Avenue Women's Center, filled with guiding hands and caring hearts, is a great first step when facing an unplanned pregnancy. We care about you! Call or text us today.
The information provided here is general in nature.  It is not a substitute for a consultation with a medical professional. Before any medical procedure, it is imperative that you discuss your personal medical history, risks, and concerns with your doctor. If you have questions during or after a procedure, your doctor should be immediately contacted. Avenue Women's Center is not an emergency center.  If you are experiencing severe symptoms, such as bleeding and/or pain, seek immediate medical attention.  Contact your physician, go to an emergency room, or call 911.