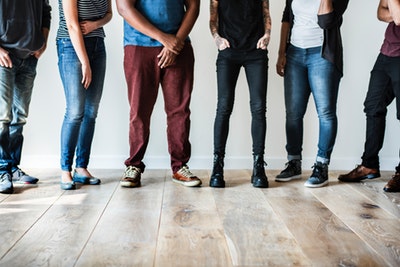 Being a "push over" has a negative connotation in our society. We value those who stand up for what they believe in, and who don't give in to outside voices. Our heroes go up against the odds and don't break under pressure. Yet, what does it mean to stand your ground when it comes to a pregnancy decision? How do you resist the outside influence from life circumstances, friends, family, or even your partner?
Avenue Women's Center understands that each woman's unexpected pregnancy situation is unique, with its own set of circumstances and pressures. We offer a safe, comfortable space to meet with our expert staff and discuss your individual questions and concerns. During your free pregnancy consultation, you can process through your pregnancy decision without the blaring voices of those outside pressures. Contact us today for an appointment at one of our five DuPage County locations right away.
I love the song, "I Won't Back Down" by Tom Petty and the Heartbreakers. I can belt it out in the car, volume high, hair blowing in the wind and say, "When this world just keeps on dragging me down, I'm gonna stand my ground." Just singing the words emboldens me. There's something about refusing to succumb to the pressure of an obstacle in my way, challenging life circumstances, or even that person who's slinging negativity my direction.
As women, it may be easy to stand our ground when the obstacle we're facing seems fairly manageable. But what happens when the pressure we're experiencing is regarding an unexpected pregnancy decision? We often not only have to manage our own fears, stress, and surprise, but also the feelings and opinions of others around us. And we do this all while assessing our current situation and circumstances. Deciding about a pregnancy under so much strain can seem like a daunting task.
Resisting Pressure from Circumstances
One form of pressure women may experience when facing an unexpected pregnancy comes from their life circumstances. Often times, a woman's current situation may seem overwhelming—concern for finances, educational goals, and ongoing support may be impacting her pregnancy decision. Are you concerned about how to provide financially for a child or pay for an abortion? Are you worried that you won't be able to complete your education if you carry the pregnancy to term? Are you concerned about the potential long-term effects of having an abortion? Is child support or access to childcare on your list of questions to be tackled?
Whatever your areas of pressure may be, take a moment to sit down, identify them, and dig deeper. Look at each concern individually. Are there resources in your area that might help address some of these concerns? What sort of connections are available for further information and support?
Standing Your Ground with Other People
Another form of pressure that you may be facing is through the expressed thoughts and opinions of your loved ones or partner. An unexpected pregnancy can bring about a lot of strong beliefs regarding what choice may be best for you. Friends, family, or your partner may express opinions that differ from your own. Their input can lead to feelings of pressure to make a certain choice regarding your pregnancy. It's important to take time and figure out what you'd like to do, aside from the feelings of others. Ultimately, this pregnancy decision will most impact you, and you alone. Research your options, gather more information, and figure out what works best for you.
Avenue Women's Center is a great next step. We're here to provide a nonjudgmental environment to gather more information about your pregnancy options. Our expert client advocates will address any questions or concerns you may have while offering personalized support—and without pressure to make a particular pregnancy decision! Find out the best path for you by making a free appointment today.
The information provided here is general in nature.  It is not a substitute for a consultation with a medical professional. Before any medical procedure, it is imperative that you discuss your personal medical history, risks, and concerns with your doctor. If you have questions during or after a procedure, your doctor should be immediately contacted. Avenue Women's Center is not an emergency center.  If you are experiencing severe symptoms, such as bleeding and/or pain, seek immediate medical attention.  Contact your physician, go to an emergency room, or call 911.