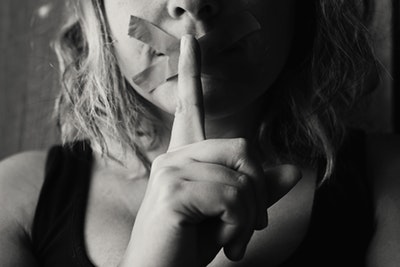 Silence is not always golden. Sometimes the space of silence can be filled with our most challenging concerns as we let our worries and feelings build up inside. Ever have an issue that caused you so much hurt you couldn't bear to mention it out loud? Maybe it's something that scares you to face even in your own mind, something you think others couldn't possibly understand. What if this something is an unexpected pregnancy and you're considering an abortion? Do you break your silence and speak up to someone?
If you're considering abortion, you don't have to suffer in silence as you decide your next steps. Avenue Women's Center is an understanding and nonjudgmental place in the Chicagoland area to voice your abortion questions and concerns. Our free pregnancy consultations offer a confidential and private environment to speak with our experienced staff who care about meeting your unique needs. Reach out to us and learn more about the free pregnancy services we provide!
Believe me when I say that I understand the possible reasons you might have for staying silent when considering abortion. When I faced an unexpected pregnancy, I didn't trust even my most loving family members with the news. I couldn't imagine that they would understand my situation and the reasons why I was thinking about an abortion. I thought I had a decision to make for myself, for my own body, and for my future. I'm also not one to reach out for help—it takes a lot for me to admit when I need it. I knew no one else could make the decision for me. I didn't want to hear anything that would make a hard choice any harder to face than it already was. So I stayed in a quiet bubble within myself, toiling and tormenting my mind with my pregnancy choice.
Abortion was still hard to talk about even years and years later. When I finally broke my inner silence, my voice quivered, my hands shook, and my stomach flipped as fear overwhelmed both my body and my mind. At last I faced my fear with words I spoke out loud instead of inside my own head. These words didn't have an easy time reaching my lips, but I finally found the courage to start talking about abortion. I can honestly reflect that the feedback I received was helpful and reassuring to hear—even from those with different opinions than mine. I was grateful for finding my way out of the silence and into a place of compassion from others, and even from myself.
Speaking up about your thoughts on a possible abortion might seem easier said than done. Talking about things means facing them. An unexpected pregnancy decision can be terrifying to face. Yet, at some point you'll inevitably have to take your first steps out of silence and into a decision. Sharing your thoughts and feelings about abortion with a trusted loved one, a close friend, or your partner might be helpful in ending the silent inner turmoil of deciding alone. It can be healing and empowering to share your truth with a person who cares about you and your well-being. It's okay to reach out for help during a tough choice. Find your courage and let your thoughts about abortion escape the silence.
Finding comfort in the silence of a tough choice can feel like an impossibility. At Avenue Women's Center, we offer a supportive and compassionate space to speak up about your unexpected pregnancy. We understand that there are a lot of feelings and facts to deal with when you're making an abortion decision. But you don't have to face this decision in silence on your own. Let our experienced and caring client advocates be your first step in learning more about abortion information and alternatives. Call, text, chat, or email us to set up your free pregnancy consultation at one of our five locations in DuPage County!
The information provided here is general in nature.  It is not a substitute for a consultation with a medical professional. Before any medical procedure, it is imperative that you discuss your personal medical history, risks, and concerns with your doctor. If you have questions during or after a procedure, your doctor should be immediately contacted. Avenue Women's Center is not an emergency center.  If you are experiencing severe symptoms, such as bleeding and/or pain, seek immediate medical attention.  Contact your physician, go to an emergency room, or call 911.