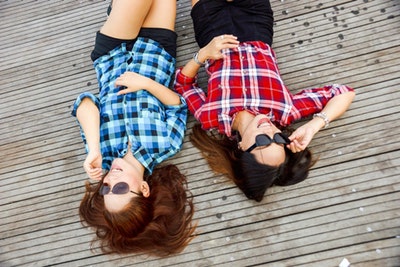 Friends can feel like a second family in life. You share tears, laughter, and life's triumphs and challenges together. But when you suddenly find out you're pregnant and leaning heavily towards abortion, a talk with anyone—let alone you're a trusted friend—can feel like an impossibility. You might have conflicting feelings of wanting their comforting support while also fearing their judgment. It can be difficult to know how to even begin the conversation.
If you are feeling alone in your unplanned pregnancy, let Avenue Women's Center be a source of understanding comfort and nonjudgmental support. Avenue has been helping women in the western suburbs of Chicago since 1981 with free pregnancy option consultations and abortion information. Contact us today to learn more about how our caring client advocates can support you and your unique needs.
So how do you even start a conversation about abortion?
What do you say to a friend considering abortion? What are some things you can do after the conversation to support your friend in her pregnancy choice?
Find a quiet environment to talk
Try to find a quiet and private space to talk with your friend about abortion. You might already be feeling anxious, worried, or fearful, and having a serene space can help your thoughts flow smoother as you discuss your pregnancy and abortion options. Having this conversation in a bustling coffee shop might not be the best option, as unexpected emotions might arise. If you have a room in your home that provides privacy, invite your friend over. A walk along a nature path can also be relatively private, as many forest preserves offer benches and secluded areas. Finding the right spot can be helpful for an open and honest conversation.
Have a mutually compassionate conversation
As you begin to talk to your friend about abortion, your nerves might be frantic as you try to explain your unique situation. Allow yourself the courage to be honest about your thoughts, feelings, and concerns while keeping in mind that there is no pressure to share more than you're comfortable with about your pregnancy. If you fear judgment, remind yourself that this conversation isn't about seeking approval or forgiveness, but rather a chance to talk with a trusted person about a tough choice. You might stutter, stumble, and even shed several tears throughout the conversation. Your friend might also have their own emotional reactions as they listen. Try to keep an understanding and open mind as you talk about abortion so that you are both comfortable to express feelings and thoughts. Allow your friend the opportunity to offer their insight and reflections about abortion. Their thoughts might help you examine important aspects of your choice you might not have thought about yet, or help you better understand your own concerns.
Being a friend in a time of need
It can be tough to be the trusted friend in this instance. How can you possibly comfort your friend? As she shares her news and thoughts about abortion, try to be silent and listen fully. She's likely already feeling so much within, and having someone to confide in can be a tremendous comfort. Offer your friend a judgment-free zone to express her thoughts on abortion. Your own thoughts and opinions might differ from your friend's, but it's important to use encouraging language to let her know that you support her personally, even if you aren't in agreement with her choice. Try not to make shaming language or make assumptions and judgments, as you might not understand her entire situation. You could be supportive by helping her find accurate information about abortion, and help her make a plan for the next steps in her pregnancy decision. Continue to be a source of support for your friend after the conversation by reaching out and reassuring her that she has a friend through this challenging time.
Talking about abortion can be a difficult and challenging conversation as you face an unexpected pregnancy. Avenue Women's Center can address your questions and concerns with a free pregnancy options consultation in a nonjudgmental and compassionate environment. Avenue understands that each woman faces different challenges and circumstances, and we strive to support and help address your needs. Contact us today to set up your appointment.
The information provided here is general in nature.  It is not a substitute for a consultation with a medical professional. Before any medical procedure, it is imperative that you discuss your personal medical history, risks, and concerns with your doctor. If you have questions during or after a procedure, your doctor should be immediately contacted. Avenue Women's Center is not an emergency center.  If you are experiencing severe symptoms, such as bleeding and/or pain, seek immediate medical attention.  Contact your physician, go to an emergency room, or call 911.