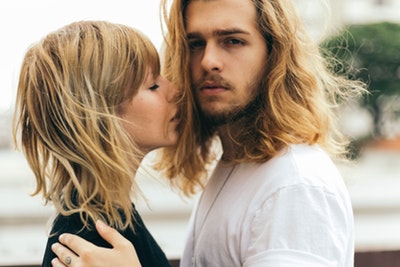 When shocking news of an unexpected pregnancy hits, it can sometimes lead to a blame game between partners. Accusations can start to fly as you try to wrap your heads around the news. Maybe you did everything you could to prevent this situation and feel like your partner is to blame. Or maybe your partner is blaming you for becoming pregnant. While it's easy to get caught up in the blame game with an unexpected pregnancy situation, it won't change the fact that a decision lies ahead. How do you end the blaming and focus on your pregnancy decision?
At Avenue Women's Center, we care about helping you focus on the tough decision you're facing. We've helped women in similar unexpected situations for over 35 years, and we offer free pregnancy services to help you move forward in your decision-making process. Confirm your pregnancy with a free, medical-grade test at any of our five locations in DuPage County. Our expert client advocates will walk you through your results and pregnancy options in a confidential consultation at no cost to you. Call, text, chat, or email to learn more!
Who's to Blame for this Pregnancy?
Sometimes we blame ourselves when something surprising happens. We think about all the things we could've done differently and the mistakes we might've made. Other times, we look for anything or anyone else to accept the fault, unable or unwilling to hold ourselves accountable. When I got pregnant, I felt the full weight of responsibility resting heavily on my shoulders. Partly because I tend to be my own worst critic and partly because my partner took zero responsibility for his part. But it wasn't all my fault. And this unexpected pregnancy isn't all your fault or all of your partner's either.
No form of birth control or contraception is 100% effective. Whenever you have sex with your partner there's always a possibility of pregnancy, even with careful prevention. All it takes is one time. Maybe that one time was when you were most fertile in your ovulation cycle. Or maybe it was that one time the condom might've slipped or torn without being noticed. Whatever the circumstances, that one time involved both you and your partner.
What Does the Blame Game Mean for Your Relationship?
When the blame game ensues with pregnancy news, it can be a sign that emotions are running extremely high or things aren't the best in a relationship. Blaming is not a loving, supportive, or caring response to an unexpected pregnancy. Perhaps the news happened during a tough time in one or both of your lives, or your relationship was strained with trust issues.
Moving past the blaming stage involves remorse and forgiveness. It can be difficult to express an apology and just as hard to be the one accepting it. Every relationship goes through hardships, but this blame game can turn into an opportunity of healing. As you work through the issues that led you here, your relationship has potential to grow, and possibly even strengthen, if you're both committed to it.
However, blaming can also be a sign that a relationship is on its way to an end. No one can make that choice for your relationship except you and your partner. Regardless of how you move forward—together or apart—it doesn't have to affect which pregnancy option you consider.
Escaping the Blame Game to Make a Pregnancy Decision
Instead of focusing on fault, shift your attention to the pregnancy decision in front of you. It happened, you're in it now, and there's no going back in time. Let the blame go and weigh your pregnancy options.
Are you strongly considering abortion? What are your thoughts about adoption if you don't feel ready to become a parent? If you continued the pregnancy would you have your partner's support? Could you find support in loved ones or through local community resources? Start to learn more about the pregnancy options you're considering and challenge yourself to think through each one. What are your feelings with each potential outcome? Do your feelings and thoughts change? What are some reasons you might feel conflicted?
Some of your answers to these questions might be hard to face, but a pregnancy decision is one that deserves your full attention and is free from the blame game.
If you need help facing an unexpected pregnancy decision, turn to Avenue Women's Center. We offer a safe, secure, confidential, and understanding environment to think through your pregnancy options. We care about supporting you in making a pregnancy decision that's informed and that you feel is best for you. Our compassionate and nonjudgmental client advocates are here to address your unique questions and concerns with expert knowledge about your pregnancy options. Make your free appointment at Avenue today and take the first steps out of the blame game!
The information provided here is general in nature.  It is not a substitute for a consultation with a medical professional. Before any medical procedure, it is imperative that you discuss your personal medical history, risks, and concerns with your doctor. If you have questions during or after a procedure, your doctor should be immediately contacted. Avenue Women's Center is not an emergency center.  If you are experiencing severe symptoms, such as bleeding and/or pain, seek immediate medical attention.  Contact your physician, go to an emergency room, or call 911.