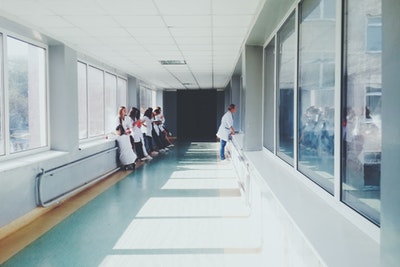 Anxiety often emerges when we're faced with a new circumstance, and with the recent development of the coronavirus (COVID-19), you may be worried about how likely you are to contract it if you're pregnant. It's normal to be nervous when it seems like you have more questions than answers. You may still be in the middle of contemplating your options, and managing your worries can seem difficult when parts of the future seem uncertain. It's recommended that you stay calm and try to process new information as it comes. But with so many questions, you may be wondering where it is you can go for support?
The news of an unexpected pregnancy, coupled with fears about the coronavirus, can lead to understandable concerns about your condition. While we're still waiting for more information about the virus and how it can affect pregnancies, Avenue Women's Center is prepared to offer clients confidential support and care. If you feel uncomfortable traveling to one of our six locations in DuPage County, but are seeking consultation about your options, our expert staff can communicate with you remotely. In addition to answering any of your questions about abortion, adoption, and parenting, we can provide you everything you need for your next steps. Call, chat, email, or text us for a free, private consultation about your unexpected pregnancy!
Am I at a Higher Risk for COVID-19 If I'm Pregnant?
While an unexpected pregnancy can inspire a wide range of feelings and reactions, the recent development of COVID-19 may have led to concerns about your risk of contracting it while pregnant. A pregnancy often causes your body to experience changes, but it's not clear if it will increase the possibility of infection for COVID-19. Since we're still waiting for further information about this new illness, it's currently unknown if pregnant women carry a greater risk of becoming infected than the general public.
So far public health experts have advised pregnant women to follow the same strategies as everyone else to avoid becoming sick. To reduce your chances of infection or spreading COVID-19, you may want to follow these steps:
Cough into your elbow instead of your hand
Limit your contact with people who are sick
Wash or sanitize your hands frequently
Avoid touching your face with unwashed or unsanitized hands
Will COVID-19 Cause Problems for the Pregnancy?
We still don't know if COVID-19 can lead to pregnancy complications. If you're worried about experiencing a miscarriage or an ectopic pregnancy, then you may want to schedule an ultrasound exam to assess your condition. While it's still unknown if COVID-19 can cause these problems, it's still a good idea to consult a medical professional so you can ask relevant questions about your condition.
It's also not clear if a woman carrying COVID-19 can pass the virus on to the fetus during delivery, as it's difficult to determine what outcomes are related to maternal infection at this point.
Right now, as further research is being completed, we anticipate updates to continue to come in about COVID-19 and what risks, if any, it may present to a pregnancy. As you think about ways to stay healthy, know you are not without support. Taking steps to maintain proper hygiene and communicate with professionals about your pregnancy can be a good first step towards prioritizing your safety, regardless of your pregnancy decision.
It's only natural that you may feel anxious when faced with these current circumstances, but try not to remain hyper-focused on the issue. It can be good to listen for updates on COVID-19, but you may want to make sure you're still allowing yourself to take a break and focus on self-care.
Are you eating nutritious foods and taking vitamin supplements? Have you received a medical check-up from a healthcare provider? Are you following recommended hygiene protocols?
These can be advisable practices even if you're thinking about abortion. If you have anything you feel you need to discuss about your pregnancy and your concerns about COVID-19, please don't hesitate to contact a healthcare provider.
As we continue to wait for updates about the virus, it's recommended you take precautions and see what services are available to you. Avenue Women's Center understands your unique concerns, and our caring staff can offer you a free consultation without you having to travel to one of our offices. Your health is our priority as we help you navigate an unexpected pregnancy decision. Processing all of the information available and keeping track of it all can be difficult, and that's why we're here to partner with you. Reach out today to talk with our trained staff about your pregnancy and receive the information you need for your next steps!
---
References:
American College of Obstetricians and Gynecologists. (2019). Practice Advisory: Novel Coronavirus 2019 (COVID-19). Retrieved from: https://www.acog.org/Clinical-Guidance-and-Publications/Practice-Advisories/Practice-Advisory-Novel-Coronavirus2019?IsMobileSet=false
Centers for Disease Control and Prevention. (2020, March). Pregnant Women. Retrieved from: https://www.cdc.gov/coronavirus/2019-ncov/specific-groups/pregnancy-faq.html
Reviewed by Patricia Kuenzi, APN-CNP, MSN, ANP, PNP.
The information provided here is general in nature.  It is not a substitute for a consultation with a medical professional. Before any medical procedure, it is imperative that you discuss your personal medical history, risks, and concerns with your doctor. If you have questions during or after a procedure, your doctor should be immediately contacted. Avenue Women's Center is not an emergency center.  If you are experiencing severe symptoms, such as bleeding and/or pain, seek immediate medical attention.  Contact your physician, go to an emergency room, or call 911.