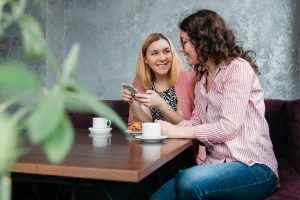 Author and activist Bryant H. McGill once said, "One of the most sincere forms of respect is actually listening to what another has to say."  Being listened to is so much more than being heard.  True listening communicates genuine respect, as Bryant H. McGill points out, as well as empathy, acceptance, and understanding.  It's the very opposite of criticizing.  Maybe that's why being listened to is often most impactful to human beings when we're feeling most vulnerable.  It's amazing how this caring exchange from one person to another can bring comfort, even if the circumstances causing the emotional pain haven't changed yet.
At Avenue Women's Center, we believe in the simple beauty of authentic listening.  Our lasting commitment to this sets us apart.  Since 1981, we've been partnering with individuals, couples, and families struggling with the challenges of an unexpected pregnancy. Avenue provides no-cost services, like medical-grade pregnancy tests and options consultations, to help women receive the information and support they need to discover a positive outcome.
Learn more about Avenue Women's Center!
At Avenue, We Prioritize Listening
Women who visit an Avenue clinic sometimes offer feedback on what they liked best about the experience.  We often hear from visitors that they felt listened to and supported during their appointment, which is encouraging, because we're dedicated to practicing what we preach.  Here are a few comments from clients we've served recently!
"Thank you for your empathy and open ear. With everything going on it meant a lot to get it off my chest."
"Understanding my current situation while listening to needs + wants. Giving great advice to assist me more on undecided decisions."
"I just really appreciate the support I felt. No judgment.  Listened to my reason for my choices.  Would definitely tell a friend about the center."
"Everyone was patient and kind. I felt heard and safe.  Everything was done at my pace and they talked me through everything."
"Great advice. Thank you for listening to my story and being a great support already."
"I really liked that I was listened to. I was not judged by my decision.  She listened as to why I made the decision I did."
Avenue is all about providing unconditional support- no matter what a person has experienced in her past or what pregnancy option(s) she's leaning towards.  It's our role to empower you with accurate information and encouragement, so you feel equipped to choose your path with confidence and autonomy.  We believe that the journey begins with attentive listening.
Learn more about our no-cost, confidential early pregnancy services!
The information provided here is general in nature.  It is not a substitute for a consultation with a medical professional. Before any medical procedure, it is imperative that you discuss your personal medical history, risks, and concerns with your doctor. If you have questions during or after a procedure, your doctor should be immediately contacted. Avenue Women's Center is not an emergency center.  If you are experiencing severe symptoms, such as bleeding and/or pain, seek immediate medical attention.  Contact your physician, go to an emergency room, or call 911.