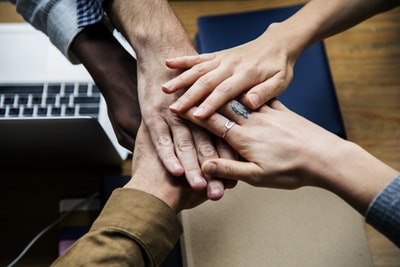 This week our blog has been focused on "The Pursuit of Happiness" derived from an article describing four rituals that will make you a happier person. The first three were gratitude, emotional labeling, and decision-making. In Part Four today, we will discuss connecting with others. Please continue the journey with us!
Avenue Women's Center is a women's limited medical clinic specializing in unplanned pregnancy. We recognize the importance of personal connection, especially when it comes to making a pregnancy decision. We have been serving Chicagoland for over 37 years, providing helpful services at no charge. Contact us today for a pregnancy test, options consultation, or more information at one of our five DuPage County locations.
In the article we've been focusing on this week titled, "A Neuroscience Researcher Reveals 4 Rituals That Will Make You a Happier Person," Eric Barker suggests the fourth component to a happiness pursuit is touch. I have broadened the category a bit for our purposes today into "personal connection." I would agree that touch is important, but it is just one of the many ways that personal connection manifests itself.
The article discusses the importance of touch in producing oxytocin, sometimes referred to as the "love hormone" or a bonding hormone. However, it also sheds light on the importance of connecting through communication. Touch and talk are two of the primary ways that we connect with others. Yet, talking has taken on a new form in our current culture: texting. Although it's easy to revert to text as a standard method of communication, the form of messaging doesn't assist us in feeling connected. As Barker describes it, "When you put people in a stressful situation and then let them visit loved ones or talk to them on the phone, they felt better. What about when they just texted? Their bodies responded the same as if they had no support at all."
In essence, we all need people. We need interaction and connection. So, call up a friend today. Go out for a coffee date. Give a hug. All of these can help boost your mood and generate positive emotions.
Hopefully this blog series has been an encouragement to you in taking positive steps in your life. Start out with one component and you may find the others following. Alex Korb puts it this way: "Everything is interconnected. Gratitude improves sleep. Sleep reduces pain. Reduced pain improves your mood. Improved mood reduces anxiety, which improves focus and planning. Focus and planning help with decision making. Decision making further reduces anxiety and improves enjoyment. Enjoyment gives you more to be grateful for, which keeps that loop of the upward spiral going. Enjoyment also makes it more likely you'll exercise and be social, which, in turn, will make you happier."
Regardless of where you are at on your happiness journey, Avenue Women's Center is here to help. We provide support, information, resources, and a listening ear. If you find yourself in the midst of an unplanned pregnancy, uncertain as to how you can move forward, or what you should do, please reach out today. Our caring client advocates have assisted thousands of women over the years as they navigated their pregnancy decision. Let us do the same for you. Contact us today for an appointment at one of our five DuPage County locations: Elmhurst, Glen Ellyn / Lombard, Naperville, West Chicago, and Wood Dale, Illinois. We look forward to hearing from you.
---
References:
Business Insider. (2015, September) A Neuroscience Researcher Reveals 4 Rituals That Will Make You a Happier Person. Retrieved from: http://www.businessinsider.com/a-neuroscience-researcher-reveals-4-rituals-that-will-make-you-a-happier-person-2015-9
The information provided here is general in nature.  It is not a substitute for a consultation with a medical professional. Before any medical procedure, it is imperative that you discuss your personal medical history, risks, and concerns with your doctor. If you have questions during or after a procedure, your doctor should be immediately contacted. Avenue Women's Center is not an emergency center.  If you are experiencing severe symptoms, such as bleeding and/or pain, seek immediate medical attention.  Contact your physician, go to an emergency room, or call 911.