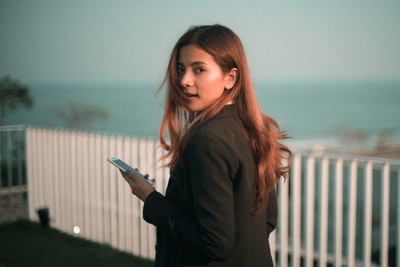 Perhaps you're reading this because you are concerned that you may be pregnant by someone you met online. Technology and apps like Tinder have attempted to make dating easier; however, often there are still complications.
Avenue Women's Center is here as the first step for women facing unplanned pregnancy. Call, text, or email to make an appointment today at one of our five DuPage County locations for a free consultation.
When you hear the phrases "Swipe right" and "Swipe left," what is the first thing that pops into your mind? It's safe to say that most members of today's younger generation would think of the app Tinder. For those of you who don't know what Tinder is, Tinder is a dating app you can download on your phone that allows you to meet others in your area. The difference between Tinder and other dating apps is that with Tinder, the first thing you see is a person's picture. Depending on whether you "like what you see" you can swipe to the right or to the left to either remove that person from your search or to chat with them.
Although Tinder seems like just a fun and innocent dating app (which it can be!), many now consider Tinder as more of a "hook-up" app that can be used for "one-night stands" with no strings attached. Some users find this appealing because it eliminates concerns about a relationship or commitment. But what happens when pregnancy becomes a possibility? How do you proceed when a one-night stand turns into a positive pregnancy test? It's so easy to think, "that won't happen to me." However, the truth of the matter is that it is more common than we think. If you or a friend found yourself in a similar situation, what would you do? Where would you go? Who would you turn to?
Here at Avenue Women's Center, we help women in situations just like this. Finding out about an unplanned pregnancy can be complicated and sometimes scary. We truly understand that. That's why we want you to know, if you think pregnancy is a possibility, or if you already took a positive test, Avenue Women's Center is here for you. Located in 5 convenient locations all around DuPage County, you can call or walk into any of our clinics. We provide caring and confidential help for any woman facing an unplanned pregnancy, tailored to your individual concerns.
So if your "Swipe right" ever turns into more than you planned, please let Avenue Women's Center be your first step. Don't navigate this pregnancy decision alone. We are just a phone call, text, email or chat away. We want to help you turn your worrisome, unplanned pregnancy into a well thought-out plan of action.
The information provided here is general in nature.  It is not a substitute for a consultation with a medical professional. Before any medical procedure, it is imperative that you discuss your personal medical history, risks, and concerns with your doctor. If you have questions during or after a procedure, your doctor should be immediately contacted. Avenue Women's Center is not an emergency center.  If you are experiencing severe symptoms, such as bleeding and/or pain, seek immediate medical attention.  Contact your physician, go to an emergency room, or call 911.