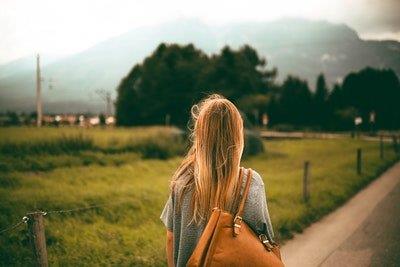 Don was walking outside to the mailbox at the end of his driveway and he passed out. Viv was close by and hurried over. It was a warm 92 degree day and he was lying on the very hot blacktop and could not get up. It was a turning point in the lives of these remarkable 80-year-olds.
Young, old, or in-between, we all face times when life takes an unexpected turn. If you're concerned that an unwanted pregnancy may turn your world upside-down, Avenue Women's Center can help. The free services offered at Avenue Women's Center can help you get your feet back under you. Our clinic provides information about all your pregnancy options. If you feel like you've been floored, we hope you'll reach out.
Viv looked up to see if someone could help and a police officer was driving by their corner. He saw what was happening and stopped by to help. An ambulance was called, followed by hip replacement surgery several days later. Don and Viv were in their late 80's and had amazed everyone by driving and functioning independently. But their world as they knew it was turned sideways with one fall – or should I say two.
Don's fall was exhausting enough but to add to the chaos five days later as Viv was getting ready to go to the hospital to visit her husband, she fell down the stairs and was taken to the hospital. Hers was a broken ankle. She was fitted with a boot on her foot and was allowed to go home.
Don and Viv went from being largely independent to relying on the care of their family. The family rallied and took turns visiting them and helping them with their needs. Life can change so suddenly. One moment everything looks fine but can be quickly followed by a crisis or two.
A new, unexpected situation brings a need for new information, new terminology, new decisions. Don, Viv, and their family had to learn about hip replacement, wound care, and mobility aids. They had the support of medical professionals and people in their community to understand the situation and help with decision making.
If you might be pregnant, especially for the first time – or if this is the first time you've considered different pregnancy options – perhaps you would benefit from a consultation at Avenue Women's Center. Our pregnancy consultants are experts at helping women (and men) understand ideas that might be new, such as "miscarriage," "abortion pill," "conception date," or "false negative."
When you're driving, you can depend on your GPS device which quickly gives a turn by turn guide to where you are going. Life is not quite so simple, but as you navigate this unexpected pregnancy, the caring staff of Avenue Women's Center can help. Please call, text, email, or chat to get connected!
The information provided here is general in nature.  It is not a substitute for a consultation with a medical professional. Before any medical procedure, it is imperative that you discuss your personal medical history, risks, and concerns with your doctor. If you have questions during or after a procedure, your doctor should be immediately contacted. Avenue Women's Center is not an emergency center.  If you are experiencing severe symptoms, such as bleeding and/or pain, seek immediate medical attention.  Contact your physician, go to an emergency room, or call 911.