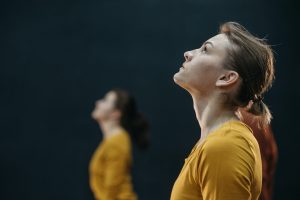 Were you recently caught off guard by an unexpected pregnancy?  These circumstances can be difficult to process, and may actually seem unreal… until physical signs begin to show.  Most people know that a pregnancy will eventually cause bodily changes.  However, many women experience a second wave of shock when they realize the other physical effects pregnancy can have.  Changes sometimes appear before a pregnancy decision has even been reached!  Learn how your body could respond, and navigate this pregnancy with greater clarity, no matter which option(s) you're leaning toward.
It's not always easy to look and feel confident in your own skin, especially during seasons of change.  Know that you're capable of moving forward with resilience and strength!  Contact Avenue Women's Center and receive early pregnancy services you can count on.  We're here to provide reliable information on each of your options (abortion, adoption, and parenting), so you can step into your brightest future feeling confident and well-informed.
Reach out and learn more about our no-cost services at Avenue!
How Might My Body Adapt During Pregnancy?
Expect some physical discomfort. Common symptoms include body aches, constipation, dizziness, fatigue, heartburn, and morning sickness (nausea) among other physical changes.
Expect some changes in appearance, at least later on. If your pregnancy continues, your belly and breasts will gradually become larger.  The breasts might also feel tender.  You may develop swelling, varicose veins, stretch marks, and/or other skin alterations (like unusual marks on the abdomen, changes in nipple color, or patches of darker skin on the face).
Do some of these potential changes sound a bit overwhelming?  If so, it's okay to be honest with yourself about that.  Women who become pregnant on purpose have opportunities to research common physical outcomes and weigh the costs before pregnancy.  But if you're coping with an unexpected pregnancy, it may feel as though these circumstances have been thrust upon you.  And the changes in your body are adding insult to injury.  Know that these changes and discomforts aren't a penalty.  Rather, they're part of a very natural process.  Your body has the remarkable ability to adapt, so the pregnancy will be accommodated if it continues.
Partnering with a Qualified Medical Professional
Whether you're feeling very anxious about your body image during pregnancy, or aren't too concerned, it's always wise to speak with a doctor or OBGYN.  Your doctor can provide detailed information on potential changes and risks.  Remember that every woman is unique, and so is every pregnancy- which means your symptoms might be different than someone else's.  Pregnancy is bound to trigger some changes though, because your body is up to a major task.  Many physical sensations are the result of changing hormones, increased blood production, and other unseen factors.  But there are easy steps you can take to ease discomfort.  And some outward changes, like stretch marks, usually fade post-pregnancy.  Begin prenatal care with a doctor! Talk with her about caring well for your body during and after pregnancy.
Understanding Your Worth
In a world of airbrushed images, it can be really hard to maintain a healthy body image.  Looking and feeling your best may seem especially challenging during a pregnancy.  But it is possible to develop strong self-esteem and honor your magnificent body throughout this season of change.  No matter which way you're leaning, or which pregnancy option you choose, know that you're a person of immeasurable value.  Our expert staff at Avenue Women's Center is here to empower you for your next steps through education, resources, and support.
At Avenue Women's Center, we understand the many challenges that women face during an unexpected pregnancy.  Not least among these is preserving a positive self-image through a time of significant physical change.  It's our mission to help meet your practical and emotional needs on the road ahead. We offer confidential medical-grade pregnancy tests, limited medical ultrasounds, options consultations, community referrals, and more!
Call, text, chat, or email to schedule an appointment at one of our six Chicagoland, Illinois limited medical clinics!
_______________
Reference:
U.S. Department of Health and Human Services OASH Office on Women's Health.  (2021, February).  Body changes and discomforts.  Retrieved from: https://www.womenshealth.gov/pregnancy/youre-pregnant-now-what/body-changes-and-discomforts
Reviewed by Patricia Kuenzi, APN-CNP, MSN, ANP, PNP.
The information provided here is general in nature.  It is not a substitute for a consultation with a medical professional. Before any medical procedure, it is imperative that you discuss your personal medical history, risks, and concerns with your doctor. If you have questions during or after a procedure, your doctor should be immediately contacted. Avenue Women's Center is not an emergency center.  If you are experiencing severe symptoms, such as bleeding and/or pain, seek immediate medical attention.  Contact your physician, go to an emergency room, or call 911.